$cat_id = get_cat_ID ( 'Openings' ); echo $cat_id ?>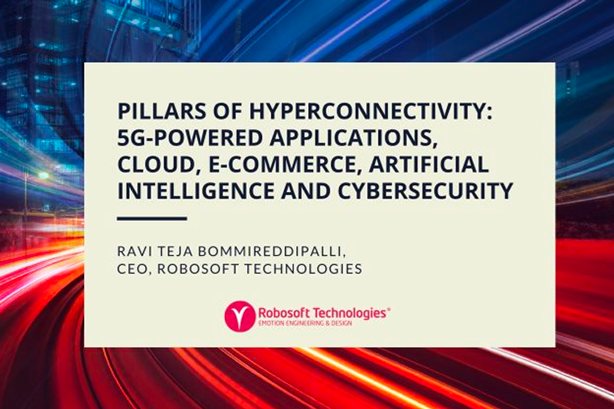 How many connected devices do you own? Chances are, even accounting for smart speakers or smartwatches, the number may be in the region of 4 or 5. However, by 2030 it is believed that each human will have more than 20 connected devices, thanks to hyperconnectivity. The effects it will trigger points to a world where everyone and every 'thing' will be connected, intelligent, and talking to each other.
The term hyperconnectivity has been used for many years in the context of interconnected devices or merely being 'always online'. In the near future, it will take on an altogether different meaning. 5G mobile networks, the Internet of Things, and big data will trigger an explosion of smart cities, homes, and workplaces. In turn, these will result in millions of connected devices, smooth data flows, and networks. This never before convergence will give a boost to not just the adoption of digital experience (DX) across enterprises but the nature and scope of such.
DX beyond mobile apps & websites
Today, DX still largely refers to the nature of customer interaction on websites, mobile apps, and such. Undoubtedly these have simplified our lives. For example, a few airports have offered self-check-in kiosks and automated boarding through facial recognition for some time now. Native apps of airlines such as United are more accessible to people with visual disabilities.
But over the last few years, especially in the post-COVID world, forward-thinking enterprises have re-oriented themselves to adopt business processes that have digital at the core, in order to improve the performance in an integrated fashion. A bank may employ Artificial Intelligence to assess the credit risk of consumers and make personalize offerings or communication. At an airport, inter-connected processes such as automated identity-screening and deployment of the Internet of Things can ease the customer experience beyond just a well-designed mobile app. These can help in airport navigation, tracking checked luggage, and smart retail operations.
The key aspects of our hyperconnected world which will impact the way enterprises design their services and accelerate the growth of DX will be: 5G-powered applications, Cloud, E-commerce, Artificial Intelligence, and Cybersecurity. We have already seen how e-commerce has re-shaped post the COVID-19 pandemic. Aside from essentials such as groceries & pharmaceuticals many industries have adapted to re-wire their business for the remote world. They have understood the core emotions of the customer and offer reassurance of hygiene practices, virtual tryouts, and no-touch delivery. Video streaming, which was only associated with media & entertainment is now part of retail therapy too.
Connected Living and its impact
Machine Learning and AI have already begun to play a role in crafting digital experiences across industries. In the hyperconnected world, such technologies along with conversational computing and asset tracking will have a far-reaching impact. In many business value chains, logistics plays a critical role. Tracking of assets such as a package to determine which truck, vessel, or location it is in, will deliver efficiencies and peace of mind. Where needed, sensors can detect vital information such as temperature (in a cold chain) or other key parameters and keep the various stakeholders informed.  Such technologies can also help in creating customer delight: over time, the system can evolve to offer predictive logistics and get into pre-emptive shipment mode. If a customer orders a shaving kit on a regular basis, imagine the delight when an order arrives within minutes of placing it, instead of days – as the system would have pre-empted the order. Over the last few years, we would have read about smart refrigerators that 'detect' what needs to be ordered and so on. Such concepts need not be fantasy anymore as smart devices and logistics can make these a reality. Warehouses, fulfillment centers, and the entire value can get more efficient thanks to the ripple effects of hyperconnectivity.
The two places where we spend most of our time – home and work will transform beyond recognition. According to Frost & Sullivan, 'the future home will become a 'central hub' for connected living'. Apple Watch is already powering Apple Fitness+, a service that then needs an Apple device to stream your personalized workouts. On-demand workspaces, entertainment centers, and Telehealth centers are also likely to emerge at home. The post-COVID world has also seen a demand for contactless biometrics and security technologies. All of these will get more personalized as data analytics, AI, augmented and virtual reality (AR/VR) and advanced computing come into play.
A hybrid work structure is likely to be a reality in the near future. The result? The need for digital, automated workflows (which eliminate manual, repetitive tasks) will rise leading to more productivity and employees with a sense of accomplishment. The pressure on government services to make the most of hyperconnectivity and create smart cities also offers opportunities for enterprises. Monitoring of physical structures such as bridges, friction-free citizen services, safe public places, connected cars, smart supply of essentials such as water & electricity have all critical digital components which need a combination of strategy, design, engineering, and analytics.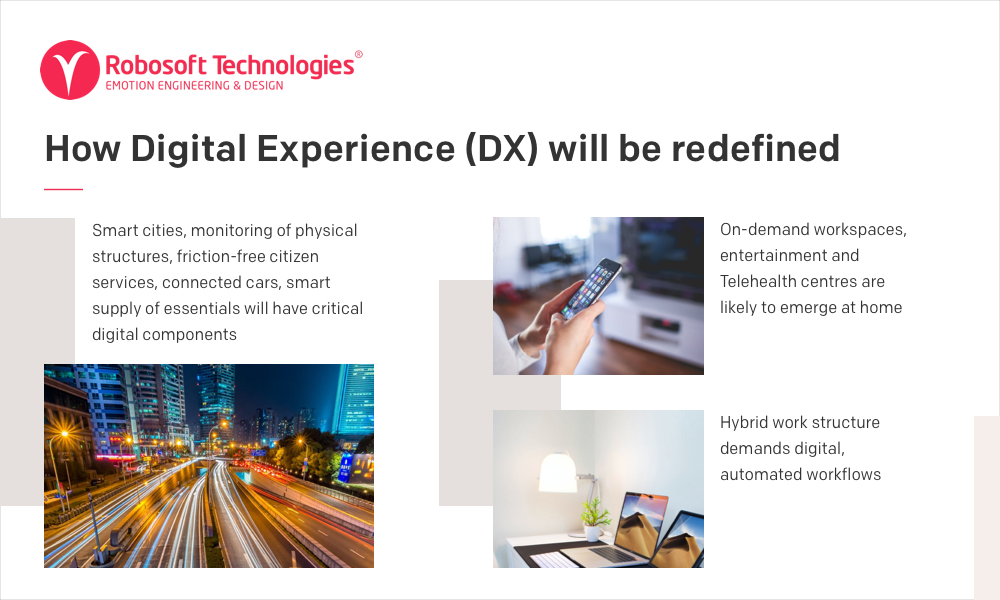 The possibilities of a hyperconnected future are limitless. It would mean immersive, personalized experiences for customers across shopping, Telehealth, gaming, and real-time collaboration. The explosion of data in the hyperconnected digital enterprise has implications in security too. But the positives of a connected ecosystem lie in making our lives simpler and better.