$cat_id = get_cat_ID ( 'Openings' ); echo $cat_id ?>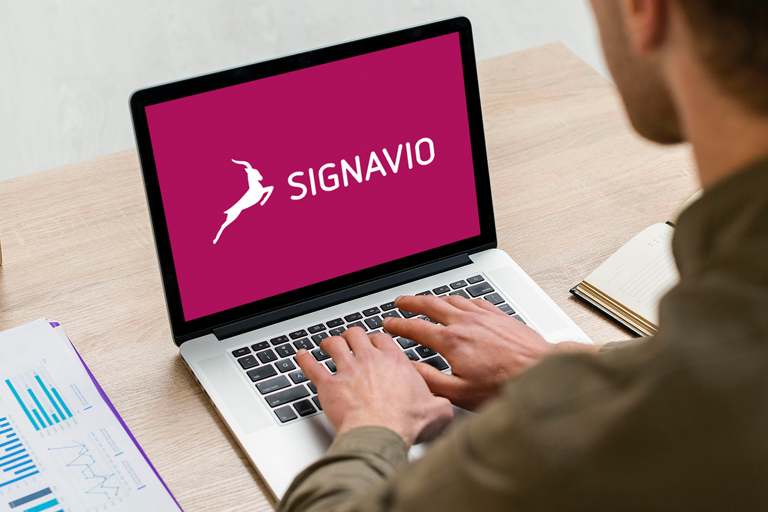 As businesses grow and adapt to changing environments, business processes also evolve as a consequence. While we ensure underlying applications are also updated, it is useful that the existing processes be inspected for inefficiencies, workflows be optimized, and manual tasks be automated to improve productivity and overall efficiency. SAP Signavio is a BPM tool for modeling business flows, associating with it the Decision flow, and permitting collaboration to arrive at a consensus and finalize To-be processes. Furthermore, integrating modeled processes with the ERP solution enables businesses to gain valuable insights and intelligence into the processes. Simulation enables the study of processes and the identification of bottlenecks.
Signavio thus empowers businesses with enhanced process analysis and management capabilities, elevating their business operations to become more intelligent. Using its business process modeling capabilities, organizations have the opportunity to model, analyze, and optimize their processes visually. By collaborating on improvements and simulating changes, businesses identify bottlenecks and achieve greater efficiency. Signavio is thus an actionable BPM tool for reimagining the business processes and optimization for a streamlined and efficient organization.
SAP Signavio's unique positioning as a Business Transformation as a Service (BTaaS) solution within the SAP portfolio enables businesses to seamlessly adopt a cloud-based approach, enabling them to get started quickly without a large upfront capital commitment.
Key Functions of SAP Signavio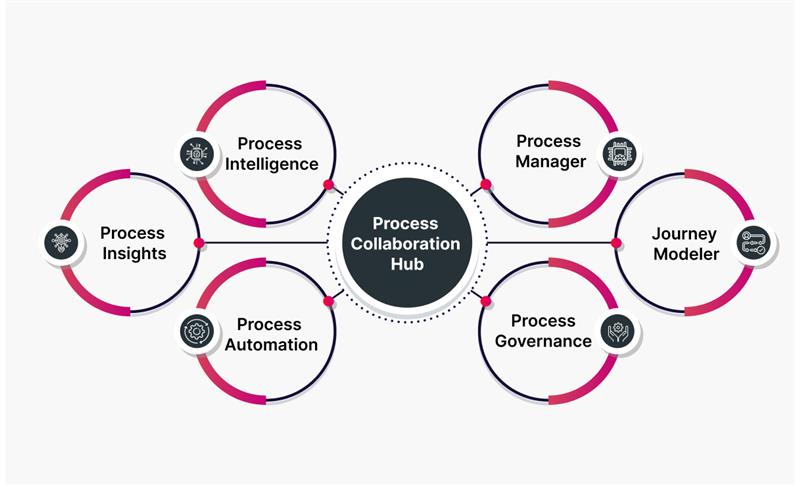 Businesses benefit from this integrated platform, integrating SAP Signavio's business process management software with SAP's enterprise software solutions. Here are some key functions of SAP Signavio:
Business Process Modeling
Create visual models of business processes using Signavio's intuitive drag-and-drop interfaces effortlessly. This empowers them to map out end-to-end processes, define roles and responsibilities, and capture process details.
Decision Management
Signavio equips organizations with the decision modeling tool, facilitating the mapping of decision logic and enhancing the decision-making process. Businesses use this platform to document decisions along with process models.
Collaboration and Stakeholder Engagement
SAP Signavio offers a centralized platform for collaboration on process improvement and transformation initiatives, enabling stakeholder engagement, documentation, feedback exchange, and discussions.
Process Monitoring and Compliance
Organizations monitor their processes in real-time using SAP Signavio, tracking key performance indicators (KPIs) and identifying deviations or bottlenecks. Process controls are documented, and audit trails facilitate organization-wide compliance efforts.
Integration with SAP Solutions
Signavio's powerful BPM capabilities seamlessly integrate with SAP's suite of enterprise software solutions, creating a cohesive SAP ecosystem. This integration establishes data flow between process models and SAP applications, leading to enhanced real-time PPIs viewability, automation, and optimization.
Process Analysis and Optimization
With SAP Signavio, organizations analyze their existing processes to identify areas for improvement. The platforms provide tools for process simulation and analysis, enabling testing of different scenarios to refine overall processes.
Key Components of SAP Signavio
SAP Signavio has been acknowledged as a leader in Process Mining according to the Gartner Magic Quadrant 2023 report. This recognition stems from the SAP Signavio Process Transformation Suite's innovative components comprising Process Modeler, Decision Modeler, Process Collaboration Hub, Process Governance, Customer Journey Modeler, Process Insights, and Process Intelligence. These components work together to provide businesses with valuable insights into their process, which help them make data-driven strategies and ongoing process improvements.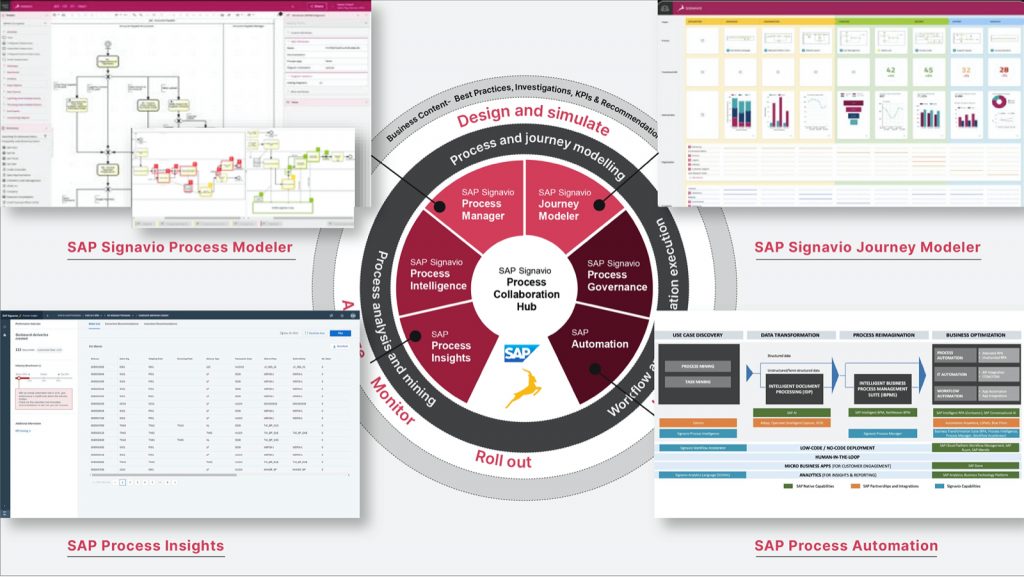 SAP Signavio Process Manager
Businesses utilize SAP Signavio Process Manager to get an elaborative view of their business processes by using these functionalities:
Collaborative Process Modeling
Organizations utilize this tool to collaboratively design business processes by leveraging multiple business process modeling notations and combining essential process attributes for comprehensive modeling and analysis. With this tool, businesses gain the flexibility to conduct comparative analysis and document workflow when implementing changes. This capability allows them to assess the resulting impacts and evaluate the performance of the new process based on real scenarios.
Validation of Process Modeling Regulations
SAP Signavio Process Manager helps businesses employ highly adaptable business process modeling conventions accompanied by real-time alerts, guidance, and error notifications. These features facilitate the design of business processes in alignment with industry best practices.
Business Process Documentation and Reporting
With this tool, businesses achieve process compliance by generating an array of process-related reports. These process reports allow them to gain comprehensive insights into their process repository, covering all critical aspects from usage to analytics and governance to risk reports.
SAP Signavio Journey Modeler
Businesses using SAP Signavio benefit from the Journey Modeler tool, which provides an outside-in view of the business through these functionalities:
Design & Model Customer Journeys
Journey Modeler enables the designing and optimizing of customer journeys and experiences collaboratively across departments. Organizations can model customer journeys, connect them to underlying processes, and modify those models to meet industry standards.
Business Repositories Integration
This tool assists organizations in seamlessly mapping the alignment between customer journeys and business processes. This facilitates the automatic population of roles and IT systems, expediting the identification of areas for improvement.
Data Integration with Experiences
Journey Modeler helps businesses enhance their process experience by coupling SAP Signavio Process Intelligence data or external systems with operational or customer experience.
SAP Signavio Process Insights
Organizations utilize the SAP Signavio Process Insights as a catalyst for enhancing process efficiency. It includes a range of functionalities, like Process Visibility, that are finely tuned to improve process management. Process Insights in SAP Signavio offers the following functionalities:
Process Analytics
Businesses gain comprehensive process analytics capabilities using this tool to analyze key process metrics, such as cycle times, lead times, bottlenecks, and resource utilization.
Process Mining
With SAP Signavio Process Insights, businesses get an immediate head start to identify, refine, correct, and prioritize issues, helping them with accelerated pathways for process mining.
Process Improvement Recommendations
Process Insights assists businesses with recommendations for process improvement and optimization recommendations based on the analysis and insights helping drive operational excellence.
SAP Signavio Process Intelligence
With SAP Signavio's Process Intelligence, businesses can:
Process Discovery
Businesses leverage the SAP Signavio Process Intelligence's process mining capabilities to automatically discover and visualize the actual process flows based on event logs and data from IT systems. This helps them understand process analysis and identify variations and deviations from the intended process.
Performance Metrics and KPIs
With the SAP Signavio Process Intelligence tool, organizations utilize a set of predefined performance metrics and Key Performance Indicators (KPIs) to gain insights into process performance. These metrics include cycle times, lead times, waiting times, and other process-related metrics, helping stakeholders evaluate process efficiency.
Process Visualization
Process Intelligence in SAP Signavio assists businesses in visualizing the discovered process flows through interactive and intuitive process diagrams. This visualization helps them identify process bottlenecks and pinpoint the areas requiring optimization.
SAP Signavio Process Governance
With the help of SAP Signavio Process Governance, businesses can:
Process Release Cycle Automation
Businesses leverage this solution to easily manage and govern the rollout of the created process and customer experience models to their organization. They utilize the capabilities of the tool to automate the process approvals and process publishing. Organizations can set up various roles and tasks for process approvals, maturity evaluation, and risk assessment by choosing process attributes.
Process Maturity Assessment
With the Process Governance tool, businesses utilize standard BPMN notations to configure process governance workflows. The tool enables automation and standardization of manual validations and reduces the risk of a wrong decision to help businesses achieve efficient operations.
Adapt to Regulation Changes
Businesses leverage this tool to quickly adapt the solution to regulation changes and enable organizational process governance.
Advantages of adopting SAP Signavio
Organizations adopting the Signavio platform have several advantages for their business transformation goals. Here are some of the major advantages of SAP Signavio solutions:
Enhanced Process Visibility
By leveraging SAP Signavio, businesses achieve a clear and comprehensive view of their business processes. The platform enables visual process modeling, documentation, and analysis for businesses to operate intelligently. Moreover, this BPM tool enables stakeholders to obtain deep insights into process design and execution. This enhanced visibility helps identify inefficiencies, bottlenecks, and areas for improvement.
Process Optimization and Continuous Improvement
Organizations using the Signavio platform leverage its powerful process analysis and simulation capabilities to identify potential areas for process optimization. They make data-driven decisions to enhance efficiency, reduce costs, and improve customer satisfaction by evaluating different process scenarios and measuring their impact. Additionally, fostering a culture of continuous process improvement is achievable by utilizing tools to monitor, analyze, and refine processes over time.
Collaboration and Communication
Through SAP Signavio, businesses foster collaboration among stakeholders engaged in process design, improvement, and execution. Businesses leverage a centralized collaboration hub of the platform that facilitates the sharing of process models, feedback exchange, and discussions. This collaborative approach helps them promote cross-functional alignment, enhances knowledge sharing, and facilitates efficient decision-making. Consequently, teamwork improves, leading to better outcomes for the business.
Process Standardization and Consistency
With SAP Signavio solutions, organizations establish standardized process models and documentation across different departments and teams, enabling consistency in process execution, fostering improved collaboration, and facilitating the sharing and implementation of best practices throughout the organization. As a result of this standardization, operational efficiency is enhanced, and errors or inconsistencies stemming from ad-hoc or undocumented processes are significantly reduced.
Compliance and Risk Management
Businesses effectively uphold regulatory compliance and manage process-related risks with SAP Signavio. The platform enables them to document process controls, facilitates the identification of compliance gaps, and allows the implementation of necessary controls to mitigate risks. Furthermore, organizations meet industry regulations and standards while minimizing potential vulnerabilities. This ensures a more robust and secure operational environment for the business.
Businesses that adopt SAP Signavio benefit from these advantages as they contribute to better process management, operational efficiency, and agility. However, organizations must consider their specific needs and goals while evaluating the suitability of SAP Signavio or any other business process management solution.
Reimagine Business with Robosoft's Expertise
At Robosoft, we recognize the pivotal role of robust business process strategy as businesses navigate complex challenges and dynamic market conditions. Our deep expertise in business process modeling links to strategic intent for reimagining business.
With initial analysis and design to implementation and optimization, Robosoft stands as a trusted partner to assist enterprises with their business process modeling needs and help them adapt to the ever-evolving market conditions. Our complete suite of solutions includes:
SAP Consulting and Business Advisory
Full-cycle SAP Implementation
Application Integration and Modernization
Cloud Services
Looking Forward
Signavio's business process modeling platform has already gained traction among various businesses, even before its acquisition by SAP. Some examples of organizations that used Signavio's BPM platform include large enterprises such as DHL, Bosch, Siemens, Liberty Mutual, and Deutsche Telekom.
With a huge customer base across diverse industries worldwide, Signavio is a trusted BPM solution for manufacturing, retail, healthcare, finance, and more sectors. In fact, SAP Signavio has over 1 million users (about the population of Delaware) across more than 2500 enterprises worldwide.
Signavio's integration into SAP's ecosystem has opened new opportunities for businesses seeking to leverage SAP's enterprise software solutions by incorporating Signavio's powerful BPM capabilities to optimize their business processes and achieve operational excellence.