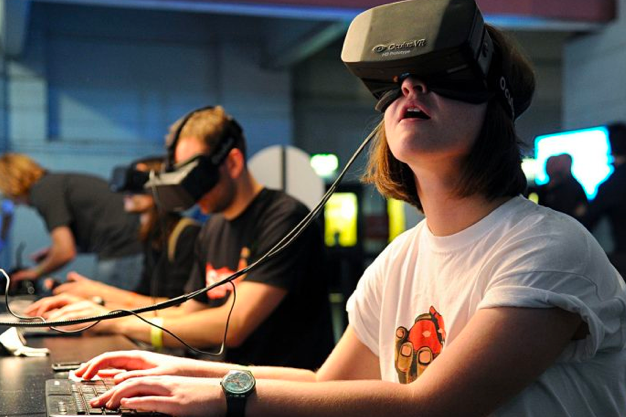 Emerging technologies are making things exciting in every realm of life; things which were imagined only in fairy tales are becoming a reality today. Mobile made it possible to communicate with anyone we want to from anywhere and anytime, Virtual Reality is opening up possibilities to be anywhere we want to anytime we want to.
In 2015, Lucey Palmer (Founder of Oculus VR) invited the whole world to celebrate Christmas with him virtually. This might be how people connect with each other in the future, where distances become irrelevant.
Merry Christmas to everyone! Let's have a VR Christmas party at my virtual place next year.

— Palmer Luckey (@PalmerLuckey) December 25, 2015
While for this to happen and for VR to become mainstream, it will still take some years, businesses are exploring VR to create engaging experiences. According to Gartner, for the next 5-10 year, Virtual Reality is going to be one of the technologies that will help businesses create innovative experiences and show promise in delivering a high degree of competitive advantage for organizations.
Virtual Reality is all about creating or recreating a simulated world in its entirety. In the last 3-5 years, Virtual Reality was mostly tied to the gaming experience. But we're already seeing a mental shift in the business world with true leaders experimenting with different VR environments that have real-life applications. Imagine watching a concert from the comfort of your couch which is being broadcasted live from Carnegie Hall while you're in San Francisco. Or the ability to actually to visit an apartment you want to rent/buy without ever stepping foot in the building (just "see" it all through your VR headset). – Rohith Bhat, MD, Robosoft Technologies
What is driving the adoption of Virtual Reality?
The rise in consumption of video content:
We know that the most information that humans consume is visual, with the emergence of smartphones and growth in penetration of internet, the visual medium – video has gained a great deal of traction. In fact according to a report, in the next five years, video content will account for almost 75% of the mobile traffic. With the growth in consumption of video content, consumers seek an innovative experience and technologies like VR help in augmenting their experience.
Further, with entry-level devices like Google Cardboard, which enables people to use their smartphone to connect into virtual environments, VR is slowly becoming more accessible to users.
The deluge of content:
Today's consumers are flooded with content everywhere but are extremely short of attention and time. According to a study, humans' attention span is now shorter than that of a goldfish! Businesses are adopting newer technologies to engage with their consumers and are striving to create exciting and innovative experiences with every engagement. Virtual Reality can help them in creating a long-lasting interaction with today's ever-fickle, the time-poor consumer.
Let us take a look at how brands can make most out of this opportunity that will probably change the course of how businesses communicate with their customers.
Brand Experience
Last year Gartner predicted that in the years to come immersive interfaces, including both augmented and virtual reality, will become the standard customer experience paradigm for scenarios requiring human-to-machine interactions.
Brands have already taken note and have started using VR to create compelling brand messages. According to IDC, about 30 percent of Forbes' Global 2000 companies are now using or experimenting with VR or Augmented Reality.
Here is a look at how some of the interesting ways in which brands are capitalising on the power of VR to create engaging communication.
Last year, Jaguar launched the #FeelWimbledon campaign as a part of their sponsorship in the tournament. With the use of Google Cardboard, they helped users to virtually get a tour of the court with Andy Murray. In June this year extending the campaign, they became the first brand in the history of The Championships, Wimbledon to take Andy Murray's Wimbledon Trophy on a tour of the UK
Recently Mountain Dew launched its VR based campaign, The Professor Presents: #GotHandles. The campaign beat the mobile industry average by 2,100%, achieving 63% video completion rates and 22% post-video click-through rates.
This year on Halloween, Coca Cola's brand Fanta, created a chilling VR experience set in a crashing elevator. The campaign also included a Snapchat component, which provides users exclusive filters via QR Codes found on specially marked bottles of Fanta. According to Rosalind Brown, marketing manager at Coca-Cola GB:
 "We know that experiences are of the utmost value to millennials and so using platforms like VR and Snapchat allows our fans to create relevant and exciting experiences and then share them online."
Loreal's virtual make-up room, Volvo's XC90 virtual test drive are some other interesting examples of brands using VR to create engaging content.
The mobile phone is central to these immersive brand experiences. Over the years we are likely to see mobile apps built specifically with such an immersive experience in mind. Endless racing games or simple track racing games have been part of some automobile brand's marketing arsenal. Now imagine playing such branded games in a VR headset.
Virtual Reality in Commerce
In a digital world, the lines between e-commerce and brick and mortar stores are blurring. With the onset of Holiday season, we are already seeing record-breaking online sales. According to a report from Adobe, Cyber Monday is the largest online sales day in history with $6.59 Billion sales and Black Friday and Thanksgiving Day brought in $5.03 billion and $2.87 billion in revenue respectively.
The retail industry has traditionally relied on creating an experience, while e-commerce sold on convenience. With e-commerce running neck to neck on sales, this scenario is changing. Further, according to a report by Accenture, 41 percent millennials examine merchandise at a nearby retail store and then shop for it online to find the lowest price.
It has become critical for brands to create engaging experiences both in their brick & mortar and online stores. VR is helping retail businesses in connecting with their shoppers in innovative ways. VR led e-commerce is uniquely placed to offer both convenience and experience. When consumers walk into a retail showroom, the décor, ambience, the replication of a use-case experience (a living room, kitchen or garden inside a mall) attracts the consumer.
Here are few brands which have aced at offering VR experiences to their customers:
Lowe's helps customers visualise their 'dream room' with decorative products from Lowe's retail store. Lowe's introduced a Holoroom in their stores, which uses a VR based visualisation tool, to help customers choose products from the store and virtually build and experience their dream room.
North Face is delighting customers by offering customers to experience their winter wear collection in an adventurous snowscape setting sitting on a sledge pulled by fictional Huskies.
Beyond customer experiences, VR is helping retailers in other ways as well, like:
Making business decisions by providing ways to A/B test store layouts with a set of shoppers or finalising shelf assortments and display. Further, VR helps executives 'walk through' their stores across multiple locations.
This year before the onslaught of Black Friday, Walmart used VR scenes to help train store staff for the big day.
Virtual Reality in News and Entertainment
The New York Times is leading the charge when it comes to news brands adopting virtual reality. In 2015, they delivered a million Google Cardboard Virtual Reality headsets to their subscribers. The corresponding app, NYT VR was downloaded over 600,000 from then on. The app can be used, either on its own or through a Google Cardboard Virtual Reality viewer, to simulate richly immersive scenes.
The power of VR is that it gives the viewer a unique sense of empathic connection to people and events. – Jake Silverstein, New York Times
In 2014, one of the most popular series from HBO – 'Game of Thrones' introduced a new VR exhibit on their "Ascend the Wall''. They used an Oculus Rift visor and a wind machine to help create the feeling of reaching the top of the 700ft (210m) high wall in the land of Westeros. Last year they posted a 360-degree video on the show's Facebook page of the opening animated credit sequence, which pans the realms of Westeros from King's Landing to Dorne. The video garnered 1.7 Million views in just 3 hours.
A viewer who was once a passive observer is now poised to become an active participant. During the Sundance Film Festival, more VR movies were showcased this year than ever before. A-list directors such as Ridley Scott and Steven Spielberg are already working on VR movies. The Contenders, The Displaced and Vigils in Paris are examples of how VR can change the way we consume news content in the near future.
In the coming months, we expect several news apps to offer Virtual Reality content for higher consumer engagement.
Virtual Reality in Travel
Pictures can capture the beauty of a location, but VR can help you experience it, take you there virtually. Travel brands have already seen the huge potential that VR offers.
A few years ago, Destination British Columbia was the first one to use Virtual Reality to promote tourism. Last year, Thomas Cook, one of Europe's biggest tour operators, launched "Try Before You Fly", a scheme that offered customers to take a quick 360-degree look at their dream vacations before finalizing their purchase. In just three months the scheme generated over $17,000 of flights and hotel bookings and 40% ROI.
The virtual sample of any location in the world has worked not just for Thomas Cook but also for other travel brands like Mariott Hotels, Hyatt and YouVisit. And that's not the end, even the airline industry in using virtual reality to make travel exciting for flyers like Qantas and Lufthansa take visitors on a virtual journey.
Virtual Reality in Gaming
Needless to say, the most obvious use case of VR is that of gaming. The novelty factor of a futuristic gear (though some may think it looks silly) and addictive games are sure to attract many to the VR fold with devices like HTC Vive, Oculus Rift and Sony's PlayStation VR.
In its survey, The Entertainment Software Association, a trade group that represents the game industry in Washington, D.C., found that 40% of most frequent gamers will purchase their own VR headsets within the next year. Insomniac Games, a well-known game developer based in America, is pivoting to virtual reality in a big way with titles like Edge of Nowhere, The Unspoken and Feral Rights. Biosensors, gesture-controlled droids and 3D Internet are all part of this vast and exciting field. Even though gaming in virtual reality is still in its infancy, there are already some popular titles such as Eve: Valkyrie, Darknet, Elite: Dangerous, ADRIFT and Lucky's Tale.
Last year, the massively popular AR based game Pokemon Go was made available on Google's VR headsets.
Ted Price, the founder of Insomniac, says, "we weren't afraid to take the risk and jump early because we feel that even if the initial player base is relatively low, VR is still here to stay.
Virtual Reality in Analytics
Along with VR commerce, VR analytical tools would also gain importance. The players in this field can improve their offering by analyzing data like blind spots, what appeals to the buyer, why someone would pick a certain product but not purchase it and many more insights like these. Based on such insights, retailers can optimize a virtual e-store and maximize profits.
Companies can also focus on gearing towards mobile-enabled VR. In this context, Ease VR is already developing an experience-driven, data analytics platform to capture, preserve and analyze user behaviour in mixed realities.
"Virtual Reality is a medium, unlike any other platform we have experienced. There is a flurry of different use cases being developed, and we have seen over thirty different use cases across industries. It's extremely critical for VR developers to understand and react to user behaviour at a granular level, obviously maintaining a high level of privacy and security. This will then lead to the development of highly personalized and reactive user experiences in the future" Prithvi Kandanda, Co-founder, CEO of EaseVR.
This year, at the NRF Convention and Expo in New York, SAS showcased their VR based prototype which can provide analytics about a retail store to business users making decisions.
With such advancements, VR is sure to bring about a great deal of change in several businesses – news, advertising, e-commerce, gaming to name a few.
Virtual Reality, meets ground reality
So is Virtual Reality a panacea for all businesses? Of course not.
As Tom Fishburne rightly pointed out, "it's not the technology itself that ultimately matters for marketers; it's what you do with it. The novelty of the technology will eventually wear off..''
Brands must provide relevant content to their audience using a platform's inherent characteristics to its advantage. Consumers are not on social media to expressly engage with a brand of mayonnaise. If the brand's content on that platform happens to be relevant, contextual and in some way of 'value' to the consumer, he or she may engage with it. Ditto with Virtual Reality – marketers must resist the temptation to see it as a 360-degree advertisement and create content which puts the customer's needs first.
If the brand does not provide an intrinsic value to its customer through its content – be it an ad, an app or social media, such value cannot magically appear just because it is on a VR headset.
What next for brands?
Virtual Reality has the potential to transform several businesses – the proverbial low hanging fruits being news, e-commerce and gaming. Digital agencies can also experiment with immersive brand experiences from virtual walkthroughs, brand-specific games and virtual showrooms.