$cat_id = get_cat_ID ( 'Openings' ); echo $cat_id ?>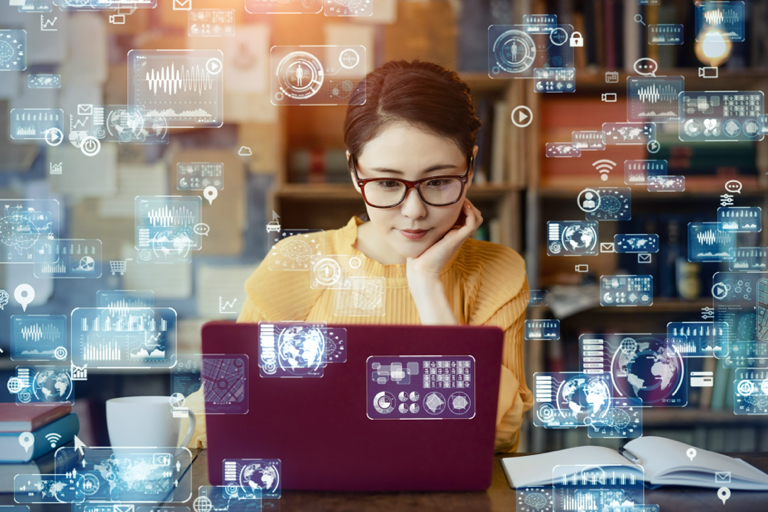 "The modern student expects immediate results and real-time experiences, and if education can't give them those things, we live in a second-class environment."
The world will spend $7.3 trillion on education by 2025, and only 5% of that will be allocated toward digital education. This shows that education still has a long way to go before digital technological advancements are considered core strategies or skills.
Even though digital tools have the potential to change how students learn and how teachers teach, many schools and universities still need to use and implement technology well enough.
In this blog post, we'll talk about why the education industry is still behind in adopting digital technology and what could be done to help it catch up.
#1: Attention Recession
A recent survey showed that up to 70% of Dutch students are unhappy with how lessons are taught now, especially in virtual classrooms. These students have said they would like more personalized lessons, more chances to work together, and more help from their teachers.
While some students have cited technical difficulties as a reason for poor attendance during virtual classes, it is important to note that the underlying issue is a lack of connection between teachers and students.
This disconnect highlights the limitations of a one-size-fits-all approach to education, which fails to consider each student's unique learning needs. As a result, educational institutions face high dropout rates and increased stress levels for teachers and students. To deal with these problems, schools must use strategies that put personalized instruction first and give teachers and students more help. This will make learning more effective and less stressful.
The Solution? – Personalization and Gamification to Create Habit Loops
Institutions of learning need to prioritize personalized learning methods and offer flexible solutions based on each student's strengths and weaknesses. This can be achieved by customizing courses to meet the specific needs of each learner.
Another effective strategy is to incorporate the gamification of education into mobile applications, utilizing game-based elements such as points, badges, rewards, and certifications to enhance engagement and retention and allow more adaptive learning. The ultimate objectives of implementing gamification include increased traffic, repeat visits, and higher student engagement.
This helps empower more blended learning, engagingly utilizing digital resources, and student-centered learning. It also helps to identify at-risk learners and provide the most effective support for each person, enabling lifelong learning.
Educational institutions must also implement a streamlined, intuitive platform with a user-friendly interface that guides students step-by-step through tasks and has multiple microservices to support the various disciplines. This type of system would benefit students and faculty and enhance collaboration among them.
#2: Underinvestment in Educator Training
Back in 2013, the Los Angeles Unified School District initiated a program to furnish every student with an iPad to augment technology access and improve the classroom experience. However, the program was beset by various challenges from its inception. One significant challenge was the need for more appropriate iPad content and resources.
Furthermore, many teachers reported needing to be provided with adequate training to utilize the technology in their classrooms effectively. Additionally, students were able to circumvent security features on the iPads, leading to non-educational usage. Another significant challenge was the program's substantial cost, with a total expenditure of $1.3 billion.
This drew criticism from some who believed the funds could have been allocated to other educational programs. The program also encountered numerous security issues, with the personal data of students being compromised and students accessing inappropriate content.
Due to these challenges, the program was ultimately terminated, resulting in significant financial losses for the district. This case illustrates the importance of thoroughly assessing all training and support aspects before implementing educational technology and keeping up with the digital transformation industry trends.
The Solution? – Advancing the Skills to Utilize Technology
By hiring a full-service digital transformation agency, teachers and faculty can get specific, expert-led professional development to help them use technology better in the classroom. An agency can assist in the implementation process, providing ongoing support to ensure technology is utilized to its full potential. It can also provide the necessary support to overcome any technical difficulties that may arise while using technology in education.

#3: Inability to Keep the Digital Equity
The proliferation of technology has the potential to bridge the digital divide. However, it also highlights existing educational disparities for students from different geographic regions and those from varying socio-economic backgrounds.
The Solution? – Implementing Connected Learning Communities through Digital Transformation
This helps students in faraway places connect with teachers, mentors, and peers from other places to solve this problem. It also provides valuable opportunities for collaboration and learning and facilitates professional development and the sharing of best practices among educators.
Using a mobile app with geo-location tracking technology can help this effort even more by putting students and teachers in touch with the resources and opportunities closest to them and most useful to them.
Room to Read
Robosoft helped Room to Read, an NGO, transform underprivileged children's lives worldwide through technology. It developed an innovative online reading platform that provides children with access to a vast library of books, videos, and resources in over 28 languages, empowering them with the tools and knowledge they need to succeed in the future.
The platform also has videos that show teachers how to do practical reading activities with children. It also helps local writers and illustrators make culturally relevant and age-appropriate children's books. This empowers the next generation of change-makers, inspiring hope and creating a better world.
#4: Minimizing Customer Acquisition Costs
With the modern student seeking immediate results and real-time experiences, universities face the challenge of providing assistance outside of traditional business hours. The inability to offer assistance to prospects seeking information during non-business hours could lead to a decrease in engagement on university websites and an increase in customer acquisition costs.
The Solution? – Deploy AI-powered Assistants to Enhance Customer Experience
Deploying automated digital assistants ensures students have access to information whenever they need it. Some tasks, like responding to frequently asked questions, are better suited for digital assistants than humans.
On the other hand, the university staff is better prepared to handle later-stage engagement, such as inviting students to visit the campus. This contributes to shrinking acquisition costs and more meaningful engagement with prospects.

#5: Data Working in Silos
Many organizations need help to utilize the vast amount of data they collect effectively. They tend to categorize this information, with different departments collecting data on various aspects of their operations, such as website engagement and application rates.
However, this lack of data integration results in a lack of comprehensive understanding of their target audience, student engagement, and the institution's ability to retain students from initial engagement to graduation.
This inability to effectively collect and integrate data puts the organization at a disadvantage. Without a complete and accurate understanding of their operations and audience, decisions regarding marketing, class creation, and other operations may not be based on complete information.
The Solution? – Adopt Data-Driven Technology
Higher education institutions must harness the power of data-driven technology and analytics to stay competitive in today's data-driven world. By collecting and analyzing data on students, operations, and engagement, institutions can gain valuable insights that can be used to improve student outcomes, optimize resource allocation, and drive better performance.
Predictive analytics can also identify at-risk students early and intervene to improve outcomes. In addition, data-driven technology and analytics can help institutions with their marketing and enrollment efforts by identifying the key factors influencing enrollment decisions and targeting their marketing efforts more effectively.
#6: Absence of a Roadmap
Adopting new technology can be daunting for any organization, especially for large schools undergoing a digital transformation. A lack of strategy can pose a significant challenge, making it difficult to know how to achieve desired outcomes and measure progress.
The Solution? – Define a Set of Clear Objectives and Goals
To ensure a successful transition, it is crucial to establish a clear direction and objectives from the beginning. This includes outlining what the school hopes to accomplish by the end of the transformation and the steps it will take to reach this goal.
Additionally, providing support to educators throughout the process can help ease any anxiety and ensure a smooth transition. By outlining a comprehensive strategy that includes specific objectives, steps, and support, the school can not only keep the process on track but also measure progress and achieve desired outcomes.
How Can Robosoft Assist the Education Industry with a Successful Digital Transformation?
The education industry is facing a critical need for digital transformation to keep pace with the changing needs of students and educators. Robosoft can assist in this process by providing a wide range of solutions that help optimize the educational experience. These solutions include automating repetitive and mundane tasks, using AI-based technologies to personalize learning, providing analytics and insights to make data-driven decisions, implementing virtual and augmented reality technologies to enhance classroom experiences, and providing a secure and reliable infrastructure for online learning.
Robosoft can also assist in integrating new technologies, support the training of educators, and provide ongoing maintenance and support to ensure that the digital transformation in higher education is successful.
Additionally, Robosoft can help education institutions develop a comprehensive digital transformation strategy that aligns with their specific goals and objectives. By utilizing Robosoft's expertise and solutions, education institutions can ensure they are well-equipped to meet the digital age's demands and provide their students with the highest quality education. For more information on how to have a seamless transition to digital transformation, contact us.