$cat_id = get_cat_ID ( 'Openings' ); echo $cat_id ?>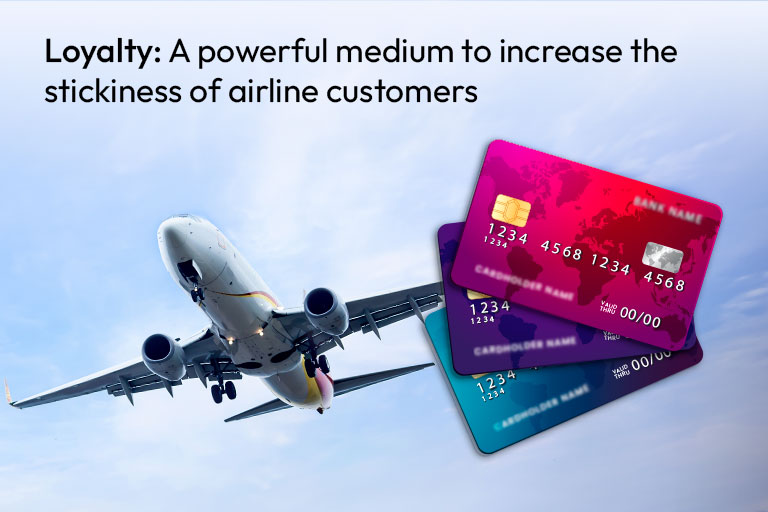 Adding personal touches to the flight experience, such as priority boarding, customized menus, and prompt services, can create a memorable journey. Loyalty programs are essential to increase the stickiness of airline customers and maintain a brand's customer base.
Studies emphasize the value of loyalty programs, with returning customers spending 67% more than new customers. Additionally, personalization can increase revenue by 15% for services offered. These statistics highlight the importance of a strong airline loyalty program. For instance, a Middle Eastern carrier was ready to invest millions in acquiring the loyalty program of an India-based airline without purchasing the entire airline.
The evolution of loyalty programs for airlines
Airline loyalty programs have evolved beyond traditional perks like complimentary services and upgrades. They currently emphasize personalization, aiming at specific customer groups and offering cross-industry experiences customized to individual preferences. They use extensive customer data for targeted marketing and curated loyalty offerings that resonate with many travelers. 
Airlines are adopting interoperability, which allows different systems and loyalty programs to work together and share data, expanding their loyalty programs. Partnering with banks, credit card providers, and entertainment companies enables them to collect valuable customer data. This data-driven approach enhances program value, encourages traveler engagement, and boosts loyalty and profitability.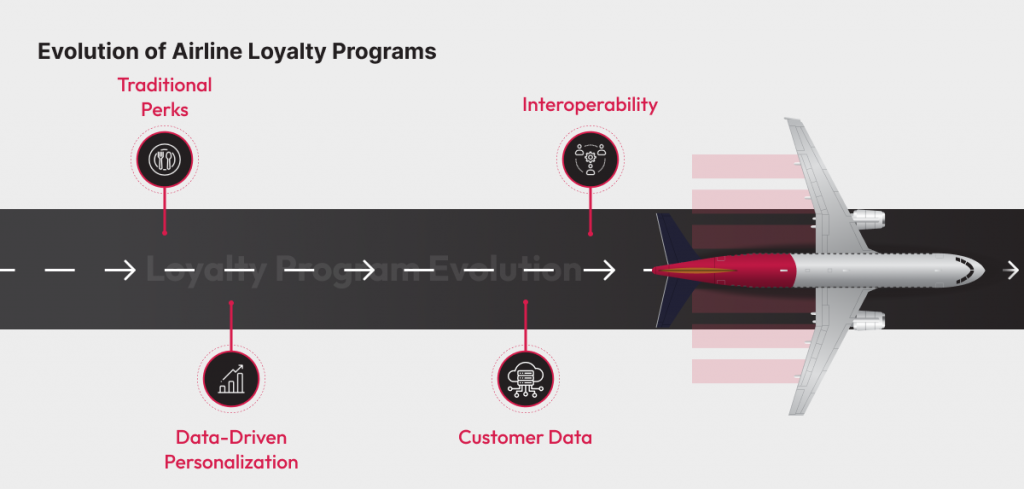 Ways to build interoperability: Strategies and Methods
Organizations within and outside the airline industry can achieve interoperability to facilitate operations across multiple geographies. Here are some ways to establish interoperability: 
1. Strategic alliances:  
Airlines should establish partnerships with others to expand their loyalty programs. 

 

For instance, Star Alliance, with Air India, United Airlines, Lufthansa, Singapore Airlines, Air China, South African Airways, Air New Zealand, and 17 more, personalizes experiences for global travelers.

 
2. Add-on benefits:  
Airlines should build ecosystems that extend beyond flights, offering services like visas, entertainment experiences, airport pick-up, and hotel drop-off.

 

For instance, Etihad Airways offers exclusive packages for the Abu Dhabi Formula One Grand Prix, and Qatar Airways sponsors multiple sports events with exclusive offers for loyalty program members.

 
3. Unified platform: 
Airlines should develop a common platform or app that allows customers to access all services and products seamlessly to increase the stickiness of airline customers. 

 

The approach meets the needs of travelers who value speed and convenience in their travel experience, with interoperability as the key to unlocking numerous opportunities.

 
Morphing loyalty programs into a universal currency
The benefits of loyalty programs are clear, and when it becomes a universal currency, it has a significant impact. Instead of creating separate points programs, airlines form alliances with businesses across diverse industries. This process expands the loyalty program's benefits to a broader range of partners, such as banks, retailers, hotels, and cab operators, all within the same alliance.   
For instance, the Alaska Airlines Mileage Plan program lets customers earn loyalty points from the airline and various retail partners. These partners include top brands like Sephora, Adidas, FedEx, Disney, and Jimmy Choo. Partners can use the loyalty platform to promote and advertise their products/services. 
The airline enjoys an enhanced brand image and gains free word-of-mouth advertising on social media. This program extends beyond flight services to other aspects of the overall experience. It also increases engagement, where customers open the app at least once daily to track activities and services.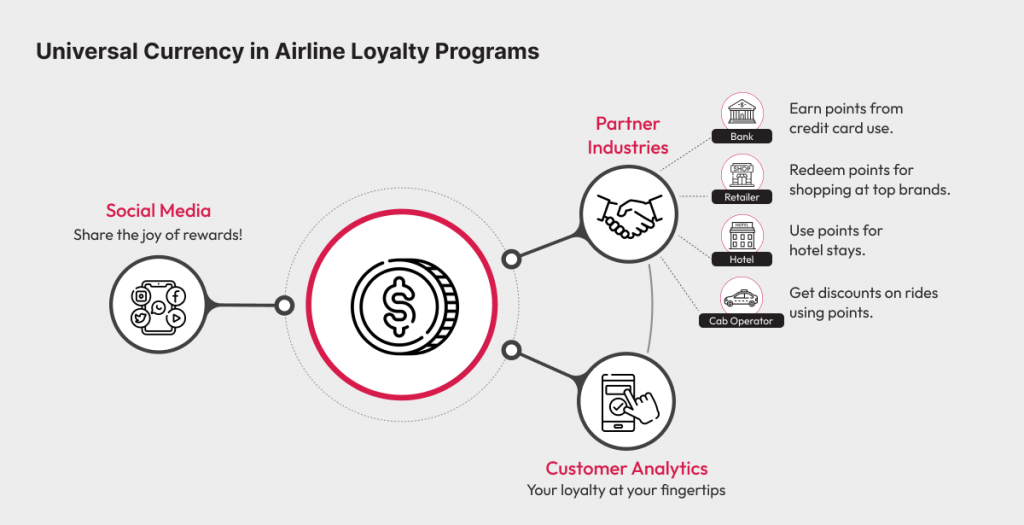 Listed below are a few recommended practices where loyalty points can become universal currency: 
Making the ecosystem interoperable: 
Interoperability helps airlines invest wisely in loyalty programs and gather valuable customer data to execute targeted marketing campaigns and audience segmentation.  

 

Customers can use their loyalty program points as

'miles'

across the ecosystem, creating a seamless and effective user experience. 

 

Interoperability grants airlines access to a rich database of marketing insights from alliance partners, helping in customer acquisition and retention strategies.

 
Customer engagement:
Achieving success in loyalty programs hinges on creating memorable, emotional customer experiences.

 

For instance, Delta Airlines utilizes universal currency by implementing a shared loyalty program within its partner ecosystem.

 

Delta Airlines employs a biometric system and automated security screening to provide efficient access to Sky Club for members who've submitted biometric data.

 

Delta's Sky Club members with Clear memberships enjoy a better and hassle-free experience, accessing the locations using their fingerprints.

 
Mobility-as-a-service:
Mobility-as-a-service is a strategy to transform loyalty points into universal currency, making them usable across multiple services.

 

For example, the Kotak Indigo 6E Rewards credit card provides perks like add-ons, seat preferences, in-flight meals, lounge access, and discounted convenience fees.

 

Airlines can leverage these credit cards to tailor discounts and offers on gym memberships based on individual customer profiles.

 

The alliance partner ecosystem can utilize these customized offers within the shared database.

 
Discover our in-depth case study on Akasa Air here and learn about our innovative Digital solutions.
Mobility-as-a-service: a forward-looking value proposition to increase the stickiness of airline customers
Loyalty programs are undeniably becoming vital in helping airlines expand their wallet share. For instance, customers typically spend more on their trips than just tickets. Yet, through the loyalty program and seamless interoperability, customers now perceive the airline as their comprehensive solution. 
Creating partnership ecosystems in travel enables airlines to increase customer revenue while enhancing their overall experience with added value, convenience, and comfort. Mobility-as-a-service offers numerous benefits, including: 
Hassle-free, end-to-end convenience:

It caters to customers' egos and emotional satisfaction, increasing the likelihood of retaining them with the same airline.

 

Comprehensive services:

From doorstep services to chauffeur and concierge services, it offers the utmost convenience.

 

Acceptance of premium services:

In the current scenario, crafting personalized loyalty programs and providing an all-in-one solution is highly effective, with speed and convenience taking priority over costs. 

 

Win-win arrangement:

A mutually beneficial arrangement benefits program not only the airline's loyal customers but also those of its partners, fostering opportunities for valuable partnerships.

 

Enhanced Brand Visibility:

When customers share their travel experiences on social media, it attracts more attention, expands brand visibility, and brings in new customers through positive recommendations.

 
These trends are indicative of the future of airline loyalty programs. A technology partner like Robosoft can enable airlines of all sizes with the technology capabilities required at the backend to develop these platforms and open access to data and intelligence. Airlines can then focus on loyalty strategies for high-value customers and leverage customer relationships and alliances to increase profitability.