$cat_id = get_cat_ID ( 'Openings' ); echo $cat_id ?>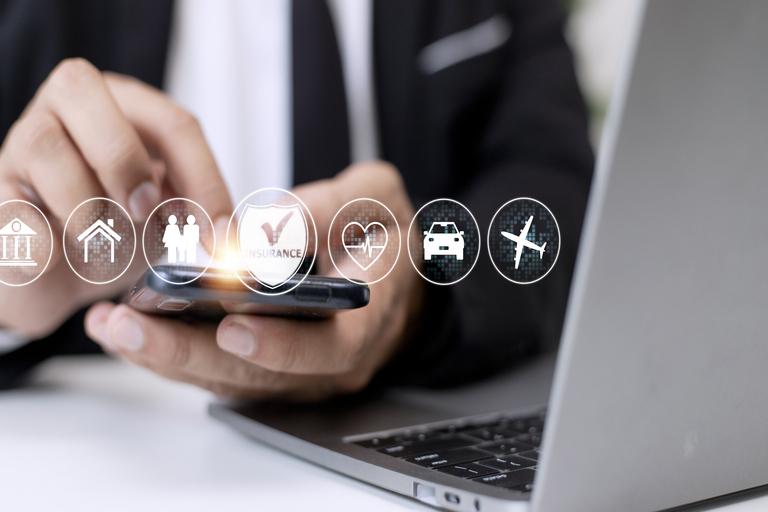 It's challenging for traditional insurers to stay competitive in today's dynamic digital market. Insurtech companies however are growing in the current experience economy, where consumers value experiences and emotions over goods and services. These forward-thinking, technologically driven businesses are providing great customer service by adapting to and exceeding the ever-changing demands and expectations of today's customers.
According to a recent IDC InfoBrief sponsored by Liferay, customer experience (CX) will account for 37% of IT spending in the insurance sector by 2024 and grow at a CAGR of 17.5% to reach 50 billion USD. The IDC InfoBrief also states that "providing an excellent and personalized experience to new digital customers is a must for any insurer to build loyalty and long-term relationships, with 60% of insurers saying attracting and retaining customers are their top priorities".
It is evident that insurers would face difficulty acquiring and retaining customers without a customer-focused strategy. Insurance companies must rethink how they engage with clients if they want to improve customer experience.
Increased Expectations for a Seamless CX
The largest customer segment for insurance was typically thought to be the silver agers generation. However, a survey by Allianz indicated that after the pandemic, millennials and Gen-Z were more interested than their older counterparts in upgrading their insurance coverage. However, younger customers are used to a clear and smooth digital experience, from social networking to mobile banking to music streaming and e-commerce services. Expectations from the insurance industry are no different. According to a study, customer experience (CX) accounts for nearly 60% of brand loyalty, and 96% of consumers believe that customer service is essential for maintaining brand loyalty.
The insurance sector is finding it challenging to meet these expectations. In a survey from the IBM Institute of Business Value, 60% of insurers acknowledge that their company does not have a customer experience strategy. Although the insurance sector has developed and offered some specific insurance products in response to these shifts in customer expectations, it is still trailing in providing clients with the comfort and ease that mobile technology can give.
Digital Trends Insuring a Better CX
The use of mobile phones and the internet has increased significantly worldwide. And when it comes to leveraging digital technologies to scale their business model and work toward providing a hassle-free experience, the insurance sector is not far behind. Some of the digital trends in the insurance industry are listed below:
1. Omnichannel insurance customer experiences
EY Global Insurance Consumer Report revealed that during the COVID-19 pandemic, digital interaction with agents was preferred by 43% of consumers in Europe markets, up from 28% before the pandemic.
In addition to preferring digital interaction, audiences, particularly younger ones, expect consistent, integrated experiences across all communication channels. For instance, if a customer begins a claim submission procedure over the phone and wishes to complete it through the web customer portal, he or she must be able to do it without having to input specific information once more. To meet such demands and preferences of the customer, there is an increasing desire for more integrated and holistic experiences that offer a unified, connected experience flow across channels.
Insurers thus need to assist the customers at every stage of their journey by establishing an omnichannel ecosystem for marketing, sales, and customer support. It helps them gain consumer loyalty along with giving them better control over the CX. These omnichannel experiences can be created by:
● Assisting customers on their preferred web channels
● Connecting customers' offline and online experiences
● Tailoring the content of websites or mobile apps for various screens
● Following client activity across channels with the help of advanced monitoring technologies
● Using progressive profiling and autofill forms to prevent users from frequently filling out forms while logging in from various devices or platforms
● Making use of client information to retarget individuals with tailored campaigns across platforms, etc.
2. Self-service options
A self-service portal that allows customers to manage their policies, make payments, submit claims, etc. is something that more and more customers are expecting from their insurance service providers. According to the World Insurance Report, 72.7% of tech-savvy customers prefer to renew or apply for coverage digitally while 57.6% of non-tech-savvy customers agree that digital policy management is important. Statistics indicate that most customers are equipped for self-service policy management, regardless of their level of digital skills. For insurance companies, self-service capabilities have several advantages:
● Lower customer acquisition costs
● Increased customer retention and loyalty
● Rapid claim processing, etc.
3. Personalized insurance apps
Over the past few years, the number of customers who would transfer insurance providers owing to poor UI UX rose by 80%. Custom insurance applications are currently the most popular channel for customer account service because a huge chunk of insurers allow customers to manage their policies via mobile apps. When providing personalized services, insurers saw an 81% increase in customer retention and an 89% increase in customer engagement.
The below qualities should be present in the customized app:
● A user-friendly interface that is compatible with both computers and mobile devices
● Workflow automation and analytics capabilities
● Payment processing
● Personalized dashboards for simple policy management and monitoring
● Other features include an embedded knowledge base, electronic signatures, and downloadable documents.
4. Internet of Things (IoT)
The insurance industry will undergo major changes in the future as a result of IoT. These technologies can be used in the four largest digital insurance ecosystems: connected cars, smart homes, connected health, and commercial lines.
The IoT makes it possible for insurance companies to use data from internet-connected devices to improve operational effectiveness. These interconnected devices communicate with one another automatically, allowing for more precise predictive analytics, snap decisions, and seamless process automation.
IoT has made it possible for insurers to collect data on policyholder behavior and quickly alert them about accidents. In this approach, IoT helps with both customer relationship management and claims processing. While customers might forget to recall and submit event details, IoT records everything. As a result, insurers are better equipped to precisely analyze damage, pinpoint the exact cause of accidents, and determine fair compensations.
5. Chatbots
Another effective technique that insurers of today should use to meet client expectations is chatbot technology. These are bot-powered chat widgets that have been added to the insurer's website, messaging service, or client portal. Insurers must set up chatbots for many reasons:
● They assist prospects by providing quotes or addressing queries
● They improve customer experience by offering 24/7 help
● They free up agents by handling repetitive customer queries
● They generate leads by collecting visitors' contact information
● They qualify leads and automatically identify the right plans for them
● They can be used to automate the claims process
When it comes to processing insurance applications and claims, a good chatbot can almost entirely take the role of a real person. This cutting-edge strategy enables insurers to provide excellent customer service while enabling agents to concentrate on more difficult responsibilities.
6. The rise of Insurtech
Insurtech is the application of cutting-edge technology to innovation in the insurance industry. More specifically, big data, AI, blockchain, IoT, natural language processing, and other technologies are what power Insurtech. The most important insurance operations, such as underwriting, fraud prevention, claims processing, etc., are addressed by these solutions.
The core digitization strategies stated above are only the outset of Insurtech. It replaces conventional, legacy-driven insurance procedures by adding these cutting-edge technologies. The most frequent use cases for Insurtech involve risk assessment and mitigation due to the constant emergence of new threats.
7. Predictive Analysis
Predictive Analysis has always been a major aspect of insurance agents' day-to-day tasks. The role of insurance agents has always included a significant amount of predictive analysis. The data analytics landscape saw a significant transformation in recent years. Agents can now select from a wide range of tools and techniques to carry out a precise Predictive Analysis. If they wish to remain competitive and meet the criteria set by InsurTech leaders, they need to quit depending on manual processes.
Predictive Analytics has been credited by insurers with lower underwriting costs (67%), increased sales (60%), and increased profitability (60%). In 2022 and in the years to come, predictive analytics will become increasingly valuable in the insurance industry.
Predictive Analysis can be implemented in the following tasks:
● Insurance pricing and policy optimization
● Risk assessment
● Fraud detection
● Claims management
● Proactive customer engagement
For instance, prediction algorithms powered by machine learning can enhance insurance plans and present more pertinent insurance products to prospective or existing consumers by analyzing customer behavioral signals and purchase trends. Predictive analytics eliminates the component of the guesswork from the policy pricing process, enhancing customer satisfaction and boosting revenue for insurance businesses.
8. Artificial Intelligence
The insurance sector is actively implementing AI-powered solutions as the technology becomes more and more prevalent and is utilized to power a variety of activities. By 2030, automation powered by AI is expected to replace more than 50% of claim-related processes, according to McKinsey. Insurers need to start their AI journey right away to make it practicable.
By automatically analyzing vast volumes of consumer data, AI processing enables insurers to provide customized client experiences. These innovations significantly alter the entire underwriting process while simultaneously speeding up claim response time.
The following technological solutions give insurers access to AI capabilities:
● AI-enabled insurance chatbots
● Predictive analytics tools
● Fraud detection software
● Document capture technologies
● Risk management software
● Claims processing software
Additionally, AI and similar technologies aren't susceptible to human error, thus removing associated risks that could have a detrimental impact on insurers' profitability.
9. Simplicity and speed improve customer CX
Insurance is a very sensitive matter in terms of customer experience. This is because when an accident occurs, the essential quality evaluation by customers takes place at a time of the highest emotional fragility and strain. Complex contracts and a bad claims experience are the two primary causes of friction. Because of this, many customers have negative impressions of their insurance experiences.
Customers report a lack of knowledge, assurance, and trust in insurance, according to the EY 2021 Global Insurance Outlook. This is further supported by the idea that, rather than providing for their clients, insurers frequently seek different justifications and defenses to avoid paying insurance compensation. Such immoral practices will have disastrous CX effects.
Insurance companies will need to integrate digital channels with back-end systems, automate manual operations, and improve third-party processes to enable faster digital processing to meet client demand for speed. As digital behavior develops and consumer expectations, influenced by digital services from various industries rise, the necessity for simplicity and speed will only expand.
10. Customer-Centered Design
In an era where customer experience is beginning to trump price and product as a brand advantage, it's critical to not undervalue the importance of personalization and customer-centricity.
Given that the growth of digital ecosystems has lowered the barrier to entry, brought about the rise of new players (Insurtech businesses), and increased market rivalry, the ability to offer customers the best value has emerged as the primary competitive advantage. Corroboration of increasing innovation may be found in operational areas like policy servicing (in life insurance), claims (in vehicle insurance), and back-office operations (in health insurance).
Companies in the Insurtech sector create digital products with the customer at the center and offer disruptive services to the market. When a customer interacts with an insurance business, it's important to understand their situation and be empathetic. The only approach to develop that level of empathy is to conduct insurance UX research and use the results of that research to design and construct a customer-centric humanized insurance UX/CX. The personalized claims experience and the personalized buying experience are the two major touchpoints in the insurance customer journey.
According to a Capgemini survey, eight in ten consumers are willing to pay more for improved customer service. According to Accenture's Global Insurance Consumer Study, 69% of customers would give major data on their health, exercise, and driving habits in exchange for lower insurance rates, and 66% would also disclose significant data for personalized services to reduce injury and loss. Good customer service frequently results in returning business and referrals to friends and family.
CX Trends in Insurance: Right Implementation from Best Insurtech Companies
1. Lemonade
Lemonade is a digital-only insurer with a web & mobile platform. The platform offers:
● Chatbot-powered conversational policy purchase process
● Renter's insurance within the app
● Car insurance is based on driving habits
● Easy switching from other insurers to Lemonade
● AI-assisted claim review and instant payment
● Option to donate unclaimed premiums to the charity of choice
2. Metromile
Metromile is the leading pay-per-mile car insurance in the US offering personalized digital insurance services. The platform offers:
● Rates are based on the user's driving habits
● Telematics devices that plug into the car's diagnostics port and driver's mobile phone to get data on car usage for better CX
● AI-assisted claim review system
● Access to a nearby garage, vehicle rentals, etc. to get back on the road in case of an accident
3. Beam Dental
Beam Digital is a digital-first, preventive-focused dental insurance offering simplified digital insurance benefits. It offers:
● Electric brush connects to their app to help track and improve brushing habits
● Gamified dental care turns good brushing habits into rewards and savings
● Nearby dentist and hospital search
● Online access to coverage and plan information 24/7
4. Luko
It's a digital home and real estate insurance app offering prevention, comprehensive coverage, maintenance, and repair. It offers:
● Damage assessment by an expert through a video call
● Access to free services to fix damages and a network of certified skilled workers to get advice through video calls to help with minor repairs
● Partnership with quality smart home device service providers and offers a discount on insurance if security solutions are used
● To donate unclaimed premiums to causes chosen by users
5. Thimble
It's an on-demand business insurance platform made to serve small businesses and self-employed. The offerings include
● Buy a policy online, in the app, or over the phone instantly
● Customized insurance coverage by hours, days, months, or years
● Flexible payment options for premium
● Options to change, pause, or cancel policy anytime
● No direct claim handling hassle as they are handled by underwriting partners
At Robosoft, we have partnered with enterprises across the spectrum of financial services – insurance, digital banking, payment, lending, and more. We craft digital solutions that simplify lives and delight customers seamlessly across consumer touchpoints.
In Conclusion
In order to win the hearts and loyalty of digital customers and remain relevant in the future, insurers must first foster a transformation culture and customer excellence culture to position towards delivering value to customers and solving their real problems.
This will allow them to evolve from "detect and repair" to "predict and prevent". It also implies making use of the possibilities that emerging technologies bring. This involves upgrading service channels, adopting, developing, and leveraging new technologies, tackling legacy systems, leaving behind inefficient processes, changing company culture, and shifting mindsets.
Digital is a key battleground in the experience economy, with significant opportunities for those that delight consumers. Let's get to work and simplify digital experiences and the lives of consumers.