How Digital Transformation is Enabling a Swift Strategic M&A in Automotive Industry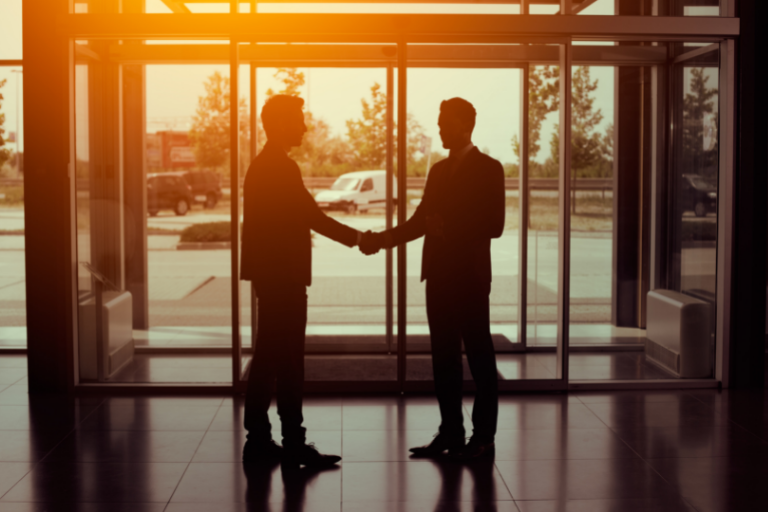 If anything history has taught us, it is the brave, innovative, believers, and risk-takers who emerge the strongest after a catastrophe. The pandemic brought such an unprecedented event to people, businesses, and industries in general.
The COVID-19 pandemic brought additional challenges to the automotive industry which deeply impacted manufacturing quantity and quality, supply chains, chip shortages, and already shrinking global demand for vehicles. The pandemic, economic downturn due to the Russia-Ukraine war, etc. has leveled the playing field for auto manufacturers and original equipment manufacturers or OEMs globally. The field is set for proactive players to leverage this opportunity to the fullest.
We are already witnessing an increase in M&A and disposal activities as companies are focusing on rapid strategy execution. Using M&A, companies are now capturing and accelerating new capabilities, improving delivery time, and even improving their position in the market.
Auto manufacturers and OEMs are now finding that sweet spot of incorporating technology not only into their production but in mergers and acquisitions as well.
Disruptions due to digital transformation in the automotive industry
There was a time when legacy organizations held steadfast to their age-old beliefs and showed great aversion to any kind of change including technology.
But as we witness day after day, digital transformation is simplifying the lives of millions worldwide, and legacy organizations have started taking note. They are now becoming the beacons of change and leading the digital transformation revolution across industries.
The automotive industry is a highly competitive industry that is now continuously evolving by rapidly digitizing its operations. Digital transformation positively influences the entire value chain and impacts all stakeholders alike – consumers, suppliers, dealerships, manufacturers, and financial institutions.
New customer experience trends are now driving the digital transformation in the automotive industry. Customers are now seeking connected vehicles that offer a personalized driving experience. This rise in demand has come at such a crucial juncture where automotive manufacturers are short on supplies and going into losses.
Automotive majors took this opportunity to become more technology-centric organizations by adopting various tools such as big data analytics, cloud computing, and body/road sensors. The influence of technology could also be seen in establishing an efficient supply chain management system and enhancing vehicle performance through remote diagnostics.
Current Trends and Key Challenges for OEMs facing an Uncertain Future due to Changes in the Industry
Original equipment manufacturers face several challenges in today's automotive industry from supply chain disruptions to shortage of semiconductor chips and skilled labor. This is why we will see companies increasing M&A activities in near future to acquire the capabilities they need to produce existing products as well as develop future ones.
#1 Surge in demand for Electric Vehicles or EVs
Since the introduction and favorable government norms, there has been an exponential increase in demand for EVs.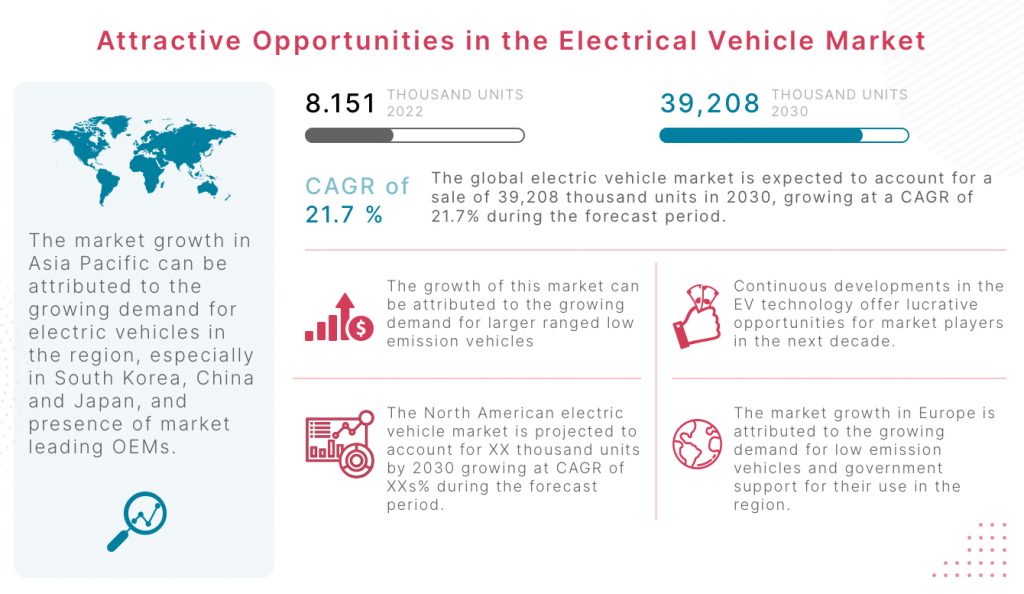 Source: marketsandmarkets.com
We are now witnessing various M&A related to EVs and autonomous vehicles (AV) between auto manufacturers, OEMs, and technology companies. It could well be a continuation of the trend from 2021 of SPAC mergers with early-stage automotive companies in the EV and AV space.
The increased demands for EVs mean key players will shift their R&D and production capacities to electrification, digital transformation deals (software, connectivity, customized chips), EV battery and fuel cell technologies, and charging infrastructure.
#2 Major disruptions from changed market behavior and expectations
The demand for new and costly features by customers with higher-tech means more pressure on OEMs to deliver quality in a shorter time frame. Adding to this, there are challenges with regulators rightfully demanding the strictest adherence to environmental and safety standards.
The impact of CASE (Connected, Autonomous, Shared, and Electric) megatrends also could be denied by OEMs to further increase the pressure on them. The disruption caused by these trends is restructuring the market with the future automotive industry likely to look substantially different from that of today.
Thus, OEMs are likely to enter into joint ventures sharing their R&D expenses and gaining access to scarce components such as semiconductors. Further, there will be alignment challenges with the governments to create the necessary charging infrastructure for EVs.
#3 Minimal differentiating factors
Earlier, manufacturers differentiated themselves on economies of scale, standardization, and product differentiation. Now with a seismic shift in the auto industry with advanced digital technologies, the differentiation factors have also changed.
Incorporating analytics, automation, and AI to improve efficiency across supply chain management to product development and customer relationship management is a must for almost any organization now. If businesses can't keep up with the digital transformation, their businesses start bearing negative results.
In extreme cases, some traditional automotive suppliers must build exit strategies amid technological disruption across the sector. The financially and technologically weakest companies could be easy identifiers for turnarounds or restructuring by larger and technologically adept players.
#4 Change in organizational goals
The time is ripe for up-and-coming players in the auto industry to reconsider their vision for the future. They must now identify likely changing areas of profitability using scenario planning over the course of the next 10-15 years. Aligning your goals with changing times could prove to be vital as coming years declare a stark warning to those OEMs who are standing still.
Opportunities in Strategic M&A of Auto Manufacturers and OEMs
#1 New product line and business models
The first movers among the OEM and auto manufacturers are investing heavily in digital transformation to gain a competitive advantage. They are also competing with tech companies to enter into new businesses such as autonomous driving, connected services, etc. The strategic M&A with digital companies is also opening up new avenues for OEMs to establish communication channels with customers for selling vehicles, accessories, and services directly.
#2 Flexibility in choosing available strategic options
OEMs and their partners currently have three options to tackle the change and disruption in the industry – build, buy, or partner.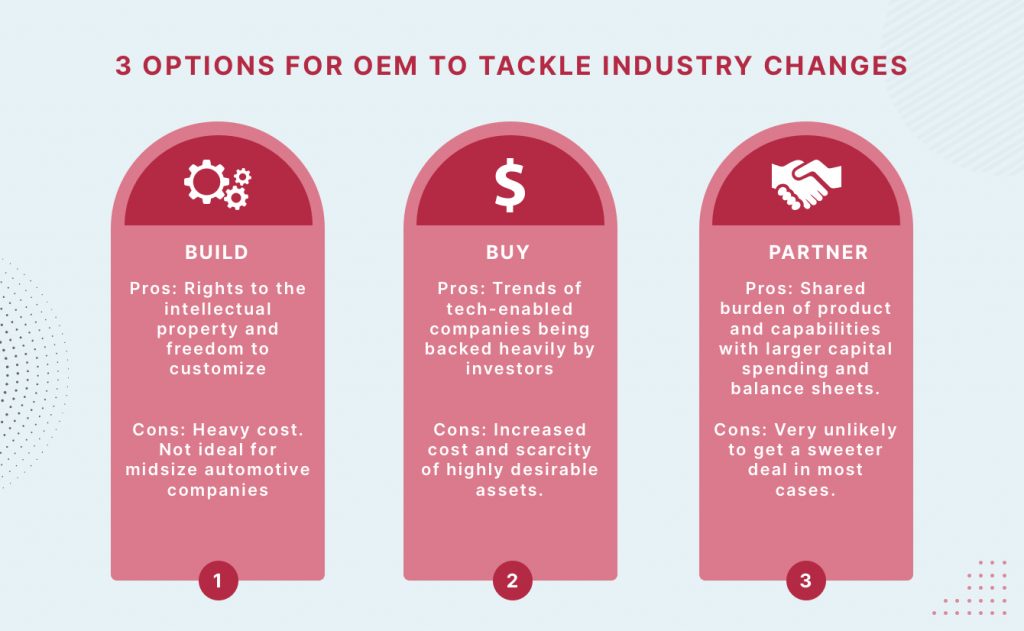 Buy
Small to mid-size automotive companies continuing their own production are bearing double expenses. There are two primary reasons for this –
(i) Continue manufacturing their existing products with upgraded features
and (ii) Developing hybrid and electric vehicles autonomously
Despite the heavy cost, the main advantage of adopting a build strategy by OEMs is preserving the rights to the intellectual property associated with the capability or technology they have built.
Build
Companies can supplement in-house development with strategic M&A that helps fill the gaps and get instant access to required technologies. However, the increased costs of these assets act as a barrier to this method for most.
Moreover, the pandemic and lack of resources have made sought-after assets such as electric powertrain or connected car assets highly desirable and relatively rare. Also, there is a scarcity of assets associated with future technologies with appropriate scale.
However, there is an influx of capital toward tech-enabled companies that use intangible assets to serve customers. These companies are using newer business models with revised goals and letting technology play a far greater role than ever. Investors are betting big on these tech-enabled companies to provide important CASE capabilities to incumbent players in the auto industry.
Partner
Various analysis of the auto industry indicates a continuity in partnerships between automotive businesses as joint ventures or strategic partnerships. The main objective behind these partnerships is to share the burden of product and capability development.
Recent years have shown various automakers and OEMs to get involved in next-generation technology-related partnerships. We can expect full mergers between an auto manufacturer and a technology partner to create larger companies with larger balance sheets and larger capital spending capabilities.
Whichever strategic direction a business may choose to go, they must regroup first and ask important questions to themselves about their long-term and short-term plans. They must be open and honest to themselves about what new capabilities they need to bring into their organization, what are the gaps, and which strategy among build/buy/partner will be beneficial for them to fulfill those gaps.
Impact of Digitization on M&A of Automotive Manufacturers and OEMs
Improved efficiency: As automotive manufacturers and OEMs are gearing up toward the next generation of mobility, they are increasingly leveraging digital transformation to improve development time to market, reduce costs and improve efficiency.
Value addition for customers: While buying a company with an established working model, having a strong clientele base, talented workforce and technical know-how give automotive companies a head-start in achieving their business goals – acquiring digital assets enables them to not just accelerate but also add value to their existing operations which in return adds value to the customers.
New innovation and development: Automotive companies have also been looking at mergers and acquisitions as a way to innovate and develop new technologies for emerging mobility products such as e-vehicles, autonomous vehicles, connected vehicles, etc., which needs quick access to a talent pool with new capabilities.
Harmonious integrations: Digital transformation has opened up opportunities for automotive firms to integrate platforms from different industries that weren't even previously considered part of vehicular services. For example – A car rental app can be integrated into an autonomous vehicle so that users can call upon them through voice commands on demand.
Digitization enables a quick M&A in the automotive industry
Some of the factors that play a role in the industry-wide changes could be found among the following:
Governments impose stringent emission norms for passenger cars due to environmental regulations. These strict norms reduce profitability for OEMs who relied on cheaper but environmentally harmful emission parts for vehicles. Now every manufacturer has to consider environmental friendliness while manufacturing parts
The economic downturn and the pandemic along with digital transformation have acted in conjunction to let smaller car manufacturers enter the market rather easily. The bigger players now not only have to reduce cost, increase profitability, and introduce digital, but also take care of competition from small players
The lack of resources and skilled labor has significantly increased product development costs. Companies are now in a conundrum to carve out non-profit making bodies and sell for capital while making sure they don't look desperate to maintain their stock price
With all these factors pressing down on them, many auto manufacturers and OEMs are left wondering how they can survive the digital transformation in this sector.
Introducing digitization in any M&A significantly speeds up the process which proves to be beneficial for both parties involved.
A swift merger & acquisition between two parties can be done with the help of the right technology partner.
What is the importance of choosing the right digital partner?
Digital transformation brings a fundamental change to the companies by helping them embed required technologies across functions.
When done properly, digital transformation increases efficiency, develops greater business agility, and ultimately unlocks new values for employees, customers, and shareholders.
This is why it becomes critical for companies to seek help only from experts and specialists with a proven track record. The right technology partner can keep your company on track and guide you throughout the process of M&A.
Conclusion
Customer experience is becoming an important factor in driving digital transformation across the automotive industry. OEMs and dealers too must be in tune with the changing behavior of consumers or they risk falling behind.
Since it is not entirely a new thing, changing trends will call for more quick mergers between auto manufacturers and OEMs. Both parties should look for a quicker turnaround time for the merger. A swift action ensures profitability and scalability measures are taken as quickly as possible post-merger.
This trend will only gain more momentum as the introduction of electric vehicles is now bringing a whole new shift in the dynamics of the automotive industry. The future looks equally scary and exciting for auto manufacturers and OEMs depending on how brave and innovative they are and fast they can act and adapt.