$cat_id = get_cat_ID ( 'Openings' ); echo $cat_id ?>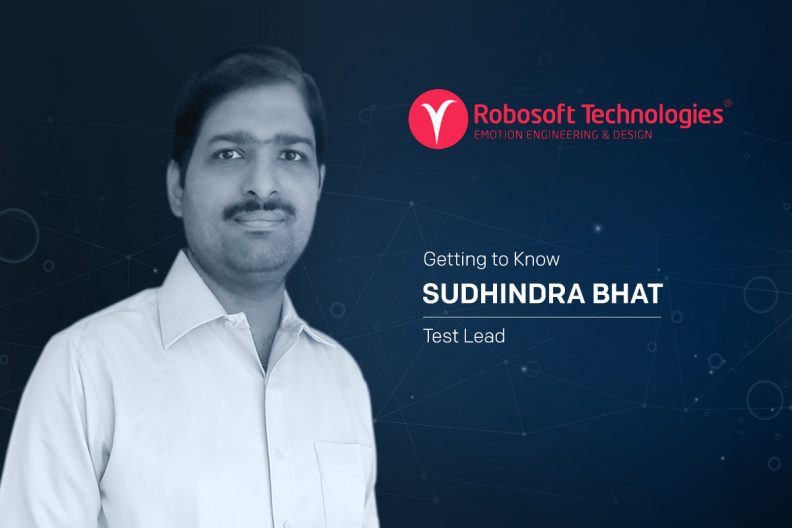 At Robosoft, our mission is to Simplify Lives. Our talented team of product strategists, designers, software engineers work towards driving this mission.
In this interview-based series, we chat with our behind-the-scenes experts – to know more about their values and inspirations. We also try to understand what drives them to create digital solutions that touch the lives of millions and drive business results.
In this interview, let's get to know Sudhindra Bhat, Test Lead. He has been with us for over a decade working on several projects in the financial services sector. Joining us as a Trainee Quality Control Engineer he has contributed to the success of several digital experiences over the years. In this conversation, Sudhindra talks about his journey with Robosoft, his inspiration, his advice for freshers, and more.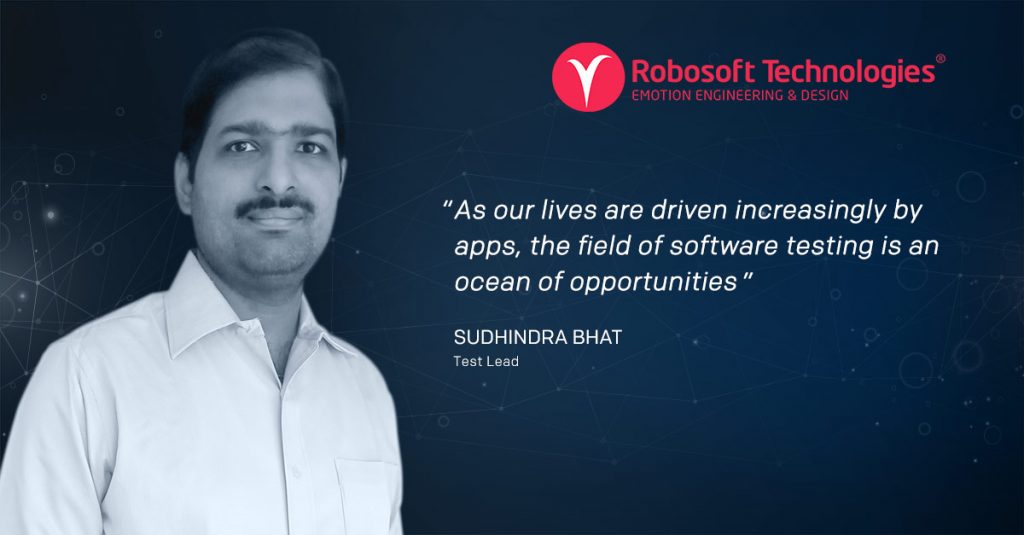 Q: Tell us briefly about yourself and your interests?
I am from Koteshwara, a small town in Kundapura taluk, Udupi district. My family had an agricultural background and our house was situated near the sea. This gave me immense pleasure to connect with nature and enjoy its beauty.
I believe that being simple, happy and healthy are great assets to have. I love to read magazines, explore testing tools & technologies and listen to fusion music. I also like to travel to lush green places and spend my time with family and friends. My day starts with yoga and the best part – it ends with playing with my 3.5 year-old daughter and listening to her stories.
Q: What was the trigger for you to join Robosoft? Tell us more about your role here.
During my engineering days, I heard about Robosoft for its quality of software development and technical skills. I joined as a Trainee Quality Control Engineer. The device driver project for HP on the Mac platform was my first project. I was blessed to have a supportive team and I started developing small scripts for software testing using Apple script and Shell script.
I worked as a backend developer for two years which gave me good insight into API design and development. My seniors guided me to learn and explore technologies by myself.
I have been working at Robosoft for the past 10 years in the BFSI segment. Robosoft, which evolved from a small city like Udupi, gives ample opportunity to learn emerging technologies and gain experience in various business domains. Today, Robosoft works with many global brands by providing Digital Strategy, Design, Development, and other services.
I worked on many challenging projects on Mac, Android, iOS and Windows phone in the BFSI segment. Along with manual testing, Robosoft gave me the opportunity to work on performance testing and automation using Selenium.
Q: What have been the key experiences of the recent quarantine phase?
Pandemic and lockdown taught us the need for an adaptive mind and the importance of human relationships. Many sectors suffered from job loss and uncertainties. At Robosoft work-from-home was implemented early and all our requirements were arranged.
During the initial phase of the lockdown, staying at home and balancing work and personal things was quite challenging. However, a disciplined way of scheduling time for professional and personal work helped me to balance things out. I had some challenges like frequent power cuts and poor internet connectivity and had to extend my work till late at night. Gradually, me and my family got adjusted and now everything is going smoothly. My daughter is surprised to know that a laptop can receive phone calls too – referring to the Skype calls which are now common. 😀
An advantage of the WFH scenario is that we can save time on travel. I took advantage of the situation and practiced Yoga. This helped me lose some weight and have an optimistic mindset during the lockdown. This also aided me to improve my professional productivity.
My advice to peers is that, as the familiar saying goes – change is the only constant and we need to adapt all the time. Give importance to both your professional and personal life – plan work at a granular level and keep a time limit for each task. Work honestly and happily for the day and end your day with the satisfaction of having justified your efforts. Last but not the least, as I mentioned earlier, the mantra of 'Simple, Happy and Healthy' always works!
Q: Your advice to students & freshers exploring opportunities in this field?
Today, technologies play a key role in our day-to-day lives. If you want to contribute and grow in this field, the only prerequisite is an attitude of perpetual learning. We need to stay curious about emerging technologies, trends and how they can be applied to make the common people's lives better. Make use of online tutorials and practice regularly. Use apps from different domains and identify how they are helping end users to achieve their goals.
Concentrate on basic concepts and learn to find alternative workarounds if there are any technical constraints. Start with small snippets of code, then optimize and fine tune it. Build an architecture flexible enough to cascade and de-cascade other frameworks and plugins easily. Learn frontend or backend technology that you love. But remember specialization is important – don't become the jack of all trades and master of none.
Q: In your view, what is the scope of this industry in the years to come?
As I am from a testing background, I see a tremendous amount of opportunity in the software testing industry. 'Testing As A Service' is in demand especially in the financial services segment -as all transactions should be safe, secure and error-free. Software testing is becoming more challenging with apps being integrated with many other services like payment gateways, real-time payment systems such as UPI in India and others.
We have a wide variety of testing opportunities like API testing, database testing, Big Data testing, performance testing, security testing, accessibility testing etc. Automation is common in this industry with tools such as Selenium, Appium, Rest Assured and a growing community of testers.
The performance of the application plays a major role in customer delight. No digital experience would be successful without good performance irrespective of an eye catching UI/UX. This opens up a broader avenue of business opportunity in the field of performance testing. Irrespective of the domain, security is a must and hence the security testing domain is rapidly growing and it requires technically skilled test engineers. Most of the testing tools are driven by programming languages like Java, Javascript, Python, Groovy etc.
As our lives are driven increasingly by apps, the field of software testing is an ocean of opportunities. I am very excited for its future and hope more software engineers choose this field to make a mark.