$cat_id = get_cat_ID ( 'Openings' ); echo $cat_id ?>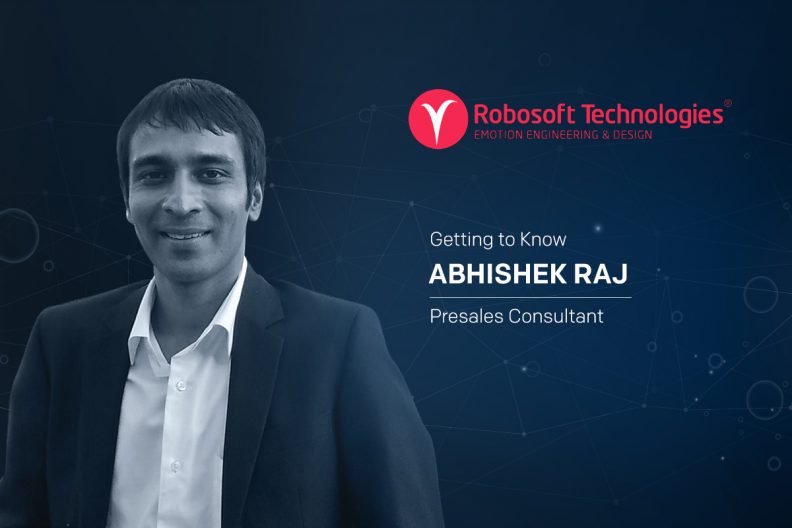 At Robosoft, our mission is simplifying lives with delightful digital experiences. Our talented team of product strategists, designers, software engineers work towards driving this mission.
In this interview-based series, we chat with our 'behind the scenes' experts – to know more about their values and inspirations. We also try and understand what drives them to create digital solutions that touch the lives of millions and drive business results.
Today, let us get to know Abhishek Raj, a presales consultant at Robosoft. Abhishek joined our team last year. He comes with over 12 years of experience in the IT services and product industry.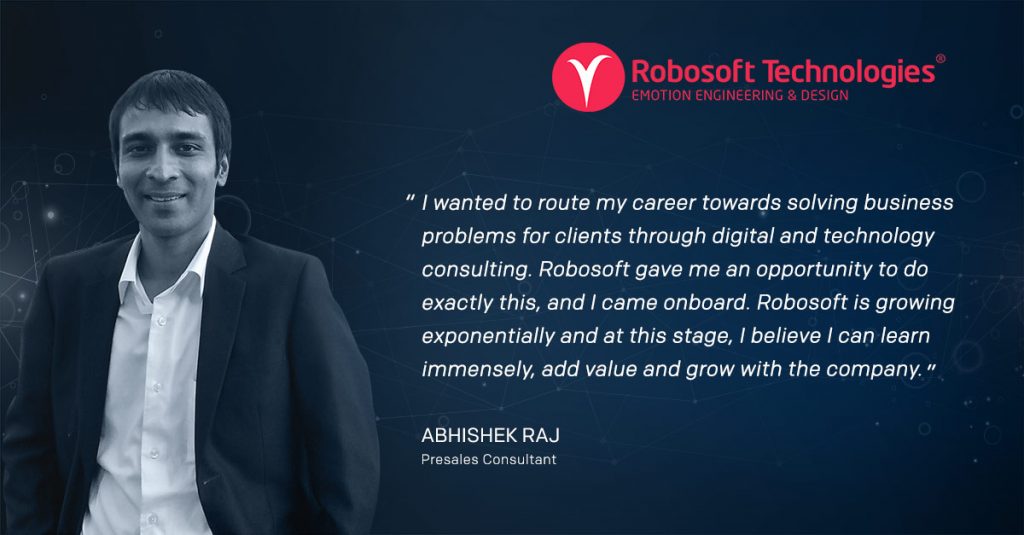 Q: Can you tell us about yourself – your family, interests, and work philosophy?
I am from Giridh, Jharkhand and I was born in a family of four brothers, just like the Ramayana 🙂 I am married and have a lovely son.
I have 12+ years of experience in the IT services and products industry. From lead generation to project delivery, I have worked on end-to-end aspects of the IT business. Digital transformation is one area that always keeps me excited. That's the reason why I chose to work in this industry.
My family is in the dairy business. We have a dairy farm in our hometown where currently we have close to 200 cows. In my free time, I prefer to spend my time in the farmhouse and use my sales skills to help my family with the right marketing and sales plans for the business.
I love playing badminton, solving puzzles, watching movies, and listening to music. My favorite getaways are mountains and beaches. I also write poems though they never rhyme.
Q: What made you choose Robosoft & what is it that inspires you?
I have spent over a decade in the IT industry and have donned many hats during this time. I have worked in sales, generated leads, negotiated, and won new business'. I have also been a business and system consultant, project & account manager, business analyst, and even a software developer at times. I have absolutely loved every aspect of my experience.
I wanted to route my career towards solving business problems for clients through digital and technology consulting. Robosoft gave me an opportunity to do exactly this, and I came onboard. At Robosoft, as a presales consultant, I am using my experience to support the sales team in providing optimal solutions to the client and ensuring that the right effort is being allocated for every project.
Robosoft is growing exponentially and at this stage, I believe I can learn immensely, add value and grow with the company. My motivation comes from client success. With every project, my aim is to work with the team and create the best possible solution for them.
Q: How has work from home been for you? What is it like to manage home and work responsibilities? Any advice to peers?
Work from home has been both good and tragic for me. I  lost my father to COVID recently. Thankfully, I was able to take care of him and spend time with him in his last days.
On the brighter side, WFH has provided a lengthy stay with my family. I have got an opportunity to spend weekends with friends and family in our farmhouse, help my brothers in their dairy farm business, play badminton, learn about new IT trends, and much more. This would not have been possible if we did not have WFH.
The WFH mode has its pros and cons. We could spend such a long time with our families after a long time. However, it does intertwine the professional and personal life to an extent. But then, in my view, it is difficult to demarcate professional and personal life completely.
With WFH becoming a reality in the post COVID world, the focus of companies has shifted from working hours to results.
To make WFH effective we must try to set a boundary between our personal and professional life during working hours. Since we are no longer on the office premises, it is essential that we self-monitor ourselves and ensure deliverables are met with respect to work. We should also try to utilize our free time judiciously and upskill ourselves.
 Q: Your advice to students & freshers exploring opportunities in this field?
My advice to the freshers joining the workforce will be – keep up to date with the latest IT trends. Never shy away from learning new concepts and IT development frameworks. Along with technology find some time to add expertise in one or two chosen business domains. Instead of being a hardcore technical person, it's always better to become a proficient technology expert who understands the business aspects as well.
Q: In your view, what is the scope of this industry in the years to come?
The IT landscape evolves at an exponential rate. Hence many firms find it tough to keep up the pace with shifting IT needs. For every business entity which deals with IT services, change is the major factor that can decide its growth and sustainability. Enterprises will need to be proactive to embrace the advances in technology and evolve their business models to expand offerings.
It will also be critical to ensure that the workforce is continuously being upskilled. This will help enterprises deliver on ever-changing client requirements, retain talent for longer, and also help employees have skillsets that are not obsolete.