$cat_id = get_cat_ID ( 'Openings' ); echo $cat_id ?>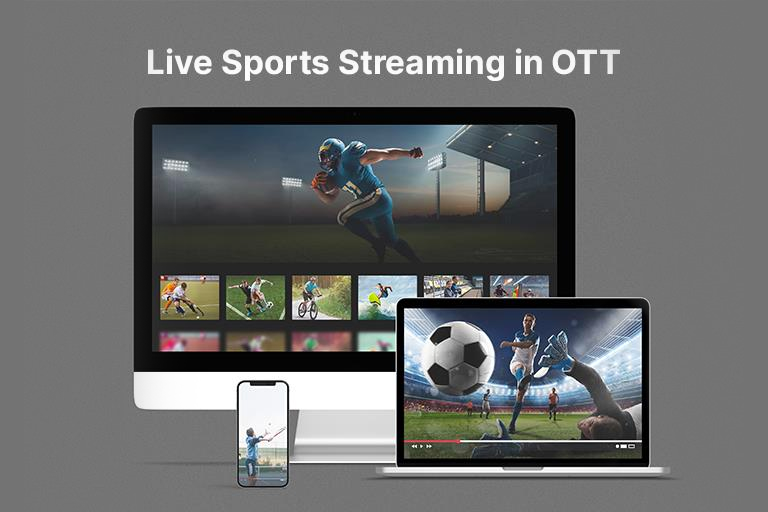 The introduction of OTT in the market changed how content can be accessed by an audience that is versatile and mobile. The days of sitting in one place in front of a TV to watch a match or a race is long gone.
The live sports OTT streaming and viewing experience has changed – multiple camera angles, toggling between different commentary, and instant stats and replays are making OTT platforms the go-to for live sporting events.
Global Growth and Record-breaking Views of Live Sports OTT Streaming
According to Statista's predictions, the number of users for OTT video is projected to reach 4.22 billion by 2027. Reflecting live sports OTT streaming's growing popularity in the US, the Super Bowl in 2023 became the highest streamed edition in the event's history in the country with an average of seven million streams.  
In India, the India-Pakistan T20 World Cup match on the digital streaming platform Disney Hotstar attracted over 18 million viewers, showcasing the growing popularity of live-streaming in the country.
JioCinema, the official digital streaming partner of the Indian Premier League (IPL) 2023, achieved a groundbreaking milestone with an astonishing 32 million concurrent views, setting a new world record on the platform.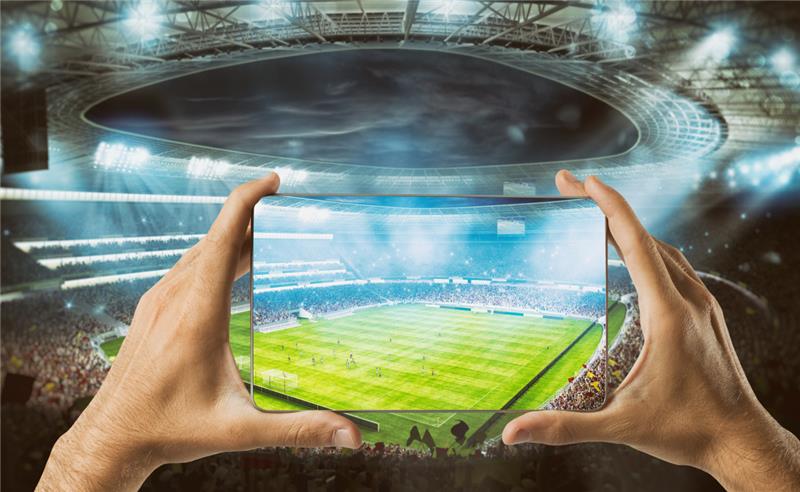 What's behind the growing allure of live sports OTT streaming?
Firstly, the greater access – the audience is expanding at home and globally. Also, OTT platforms can capture the excitement of watching sporting events as they unfold. These platforms provide an exclusive experience for fans, allowing them to interact with the live feed and choose how they want to watch it.
OTT providers have the unique opportunity to maximize viewership and revenues by offering an intuitive and customizable platform, various monetization options, and the ability to stream high-quality video.
Customization of ads, regardless of geography or language, subscription plans, and channel offerings – where a viewer can access multiple graphics, listen on audio only, or view the event – all these can be delivered on the same OTT platform, engaging the audience in ways that cable TV cannot.
Providers must approach live sports OTT streaming differently.
Watching a sports event on OTT is different from watching it on television. Live sports OTT streaming telecasts are among the few events that still draw massive crowds who want to watch the action as it unfolds.
One of the biggest attractions of such viewing experiences is the unpredictability and suspense regarding what might happen. Now, OTT players have the opportunity to reimagine the sports fan's viewing experience to make the difference from television even more striking and memorable.
Below are the key factors driving OTT adoption for live sporting events. OTT providers can focus on these to add the X-factor to their offerings.
Personalization: Personalization improves live sports OTT streaming on platforms by tailoring content to viewers' interests, increasing engagement, satisfaction, and discoverability of new sports. Through a deep understanding of the viewer's geographical location, preferred sports, teams, tournaments, and viewing preferences, Roku, a leading digital media player brand, aims to deliver a highly tailored live sports OTT streaming experience. Users can personalize their live TV streams, reorganize their favorite channels on the home screen, and more. Roku is committed to supporting a diverse range of dedicated sports channels and aims to expand sports content, coverage, and viewership further by including games covered in Spanish. For example, we partnered with ESPNcricinfo to create personalized user feeds, including team alerts and real-time updates, enhancing the user experience.
Deeper fan engagement: By incorporating replay options, multiple camera angles, gamification elements, and other interactive features, JioCinema, a leading Indian streaming service, elevated the IPL 2023 experience. They introduced viewers to various viewing perspectives, such as aerial views, stump cameras, and cable cam visions. With the power of 5G connectivity, audiences can enjoy matches on various smart devices. Moreover, their recently unveiled Virtual Reality (VR) headset, which can be easily paired with Android or iPhone devices and comes at an affordable price, aims to replicate the immersive atmosphere of being in the stadium for those watching from the comfort of their homes.
Quality of Experience (QoE): It directly impacts user satisfaction and significantly influences the brand's reputation. The QoE becomes even more crucial in a live sports OTT streaming setting because no fan wants to miss a key event in a game due to a buggy app. By prioritizing QoE, the app providers can deliver an experience that could also turn sports fans into fans of the app.
Targeted advertising: Advanced technology is now available that enables top-notch targeted advertising to millions of concurrent sports viewers using live streaming. As the numbers watching a single game can be enormous, live sports OTT streaming presents a substantial opportunity to advertise in a targeted manner to a captive audience whose interests and preferences are known. For instance, Hulu uses dynamic ad insertion in its live TV service to deliver more relevant content to specific audiences.
Multi-device/platform experience: Simultaneous live streaming to multiple platforms has become simpler with the advancement of tools and software. Users can pick up right where they left off, watch a live match on their mobile app while on the go, and easily switch to a larger screen like a Connected TV. A Multi-device, multi-platform approach can deliver truly seamless and consistent experiences to the users, regardless of their devices, operating systems, or platforms. For instance, while commuting, you can watch a live IPL match on your mobile and seamlessly switch to your living room TV at home without missing any action. For instance, Discovery+, Magnolia, and similar OTT players optimize content quality for various devices (Mobile, Laptop, Tablet, CTV), ensuring seamless user experiences. Uninterrupted viewing boosts engagement and satisfaction.
E-commerce/fan merchandise: The surge in livestream shopping offers a prime opportunity for OTT platforms to collaborate with sports brands, delivering enticing online merchandise experiences. Take Magnolia's example – their integrated e-commerce section within the OTT app led to increased revenue and engagement by curating collections tied to their shows. By emulating this model, OTT platforms can partner with sports brands to promote fan merchandise, driving monetization through interactive ads, promoting jerseys, and offering event tickets. This strategic alignment capitalizes on user interests while boosting revenue and engagement.
Enhance accessibility: The idea is to offer a more inclusive live sports OTT streaming experience so that fans who might be differently abled can enjoy the excitement of watching their favorite sporting event to the fullest. One way is to include optional audio description/narration features, for instance, to support those with visual impairments. Using assistive technology in apps like TLC Go showcases the brand's empathy towards users, fostering an inclusive entertainment experience. Features like screen readers, captions, and audio descriptions in live sports streaming enhance appeal and retention for a diverse audience, extending market reach.
Better Digital Rights Management: With major and niche players competing for sports broadcasting, protecting intellectual property and anti-piracy measures will become a top concern. Digital Rights Management (DRM) is often mandated as a pre-requisite by the content providers before licensing the content rights to the OTT apps. 

It also helps bring content exclusivity, especially for premium content like early releases or live sports events on the platform, further driving user adoption.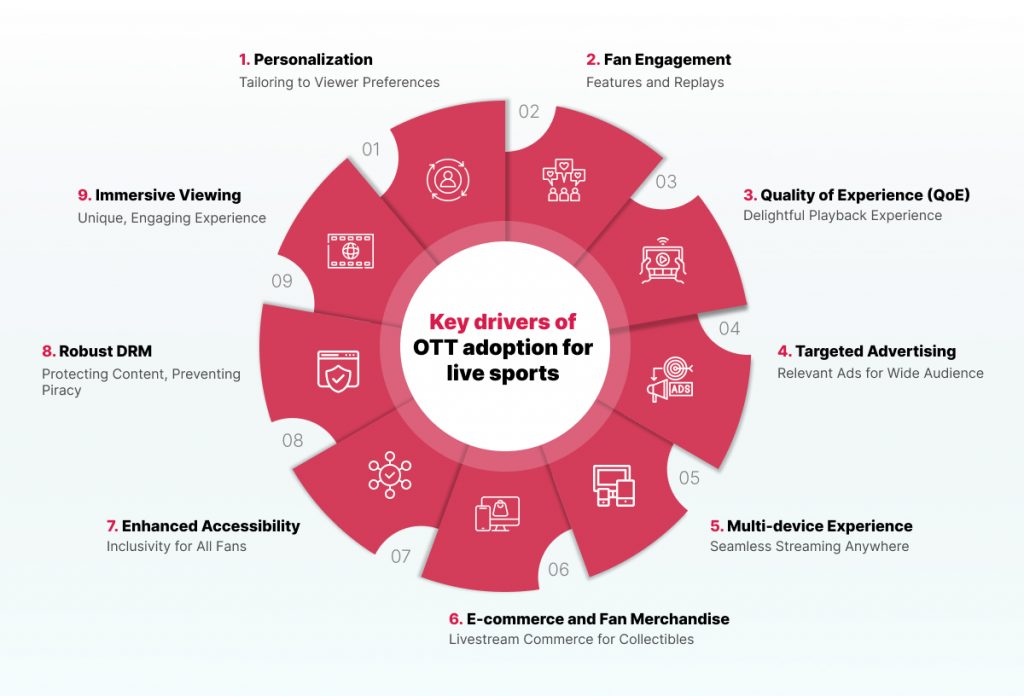 Undeniably, live streaming increases end-user reach and adoption, giving OTT providers an excellent opportunity to accelerate their growth. For OTTs to remain profitable, providing an immersive viewing experience for the audience with contextual content and unique customizations is crucial – from how they view the live sporting event to how subscription packs are designed. Managing loyalty to the platform goes beyond purchasing streaming rights and towards providing their remote viewing audience with an experience as close as watching the actual event at the venue.
Preparing for the future of live sports OTT streaming
The trend is towards viewer-centric content, contextual experiences, and ease of access. Adding interactive elements like chat, polls, and predictions to the content that engage them on social media allows OTT providers to create a community and influence subscriber loyalty.
Having acquired a loyal viewership, OTT providers must innovate and find ways to continue fulfilling viewer experiences with the apps and platforms they offer. Ideally, this would be a mix of technology and content – low latency, high-speed delivery with consistently engaging and fresh content that grabs the viewer's attention and keeps drawing them back. Flexible and affordable viewing options with different-priced plans are one way to capture and retain a wide range of viewers.
This is especially vital in live sports OTT streaming, which must cater to huge masses who expect to watch the action in near real-time, as much as possible, and support interactive features for engaging with them at scale. The smaller the time lapse (ideally less than 20 seconds) between the actual on-field action and when the audience gets to watch, the more likely they will remain hooked to the experience and the platform delivering it.
The future also promises numerous opportunities to leverage gamification, AR/VR experience, viewers' watch parties, pop-up live streaming, near-live clips, highlights packages, and Free Ad-supported Streaming Television (FAST) channels to cater to a broader community of online viewers. It is up to the OTT provider to tap into these opportunities to create platforms and apps that influence subscriber stickiness.
Setting up a winning platform for live sports OTT streaming
Sports transcends culture, language, geography, and beliefs to serve up the single-most unifying of events, and OTT providers must take advantage of that aspect. Catering to different audiences while setting up the live sports OTT streaming strategy is key to its success.
Since sharing experiences is a highly acknowledged social need, OTT providers can look to enabling seamless transitions between the live feed and social media, as that will greatly add to the viewer's experience. It will also promote the channel and its content and lay the foundation for a community.
For example, in India, Formula One moved from partnering with cable providers to hosting races on its OTT platform F1TV. This has boosted viewership of live races while providing the audience with a unique, interactive experience not available earlier. The audience can choose from different commentaries, camera feeds, and angles while interacting live with commentators on social media platforms.
The future of live sports OTT streaming will be defined around instant, accessible, on-the-go, and interactive experiences, and a tremendous way to cater to this need is by offering customizable, affordable viewing choices on OTT platforms and apps.