How the next gen of education can be enabled by emerging technologies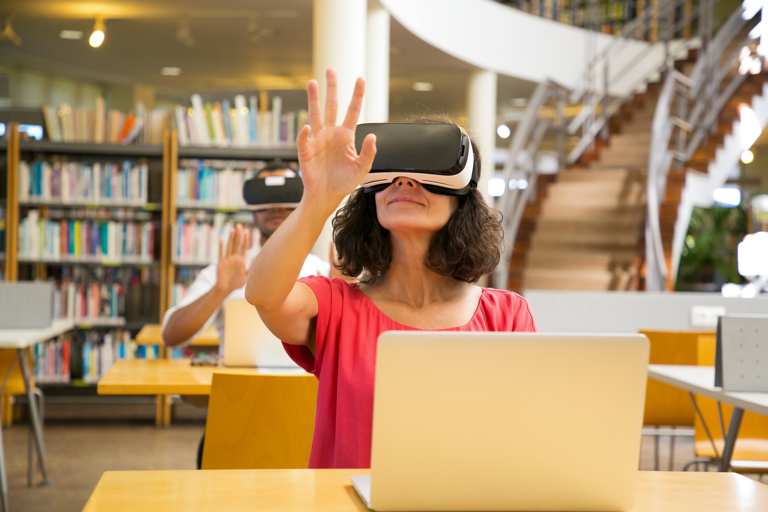 In 2021, online learning platform Coursera reported 20 million new learners in the year, equal to the total growth of the three years prior. The COVID-19 pandemic triggered an exponential jump in the already upward trajectory of online learning. Work from home, virtual classrooms, and time to pursue learning new skills saw the US recording the highest growth in online learning with more than 17 million registered learners followed by India, Mexico, Brazil, and China.
Amid the devastation caused by the pandemic, governments, teachers, students and corporates by benefited by accelerating digitalization efforts. For sure, today's generation of digitally native learners lapped up this transition by educators. And although initially resistant, teachers discovered digital tools to be welcome assistants while managing schedules, keeping parents included, and doling out and marking assignments. The forced adoption of digital technologies, accompanied by wider access to smartphones, made online learning accessible and affordable to larger masses globally. The shift to remote working also saw more professionals sign up on Learning Management Solutions to upskill and keep pace with the evolving demands of the workplace, learning about emerging technologies, wellness and personal growth, and management behaviors.
With the global EdTech and Smart Classroom market size expected to reach US$ 259070 million by 2028, the future outlook for eLearning platforms and EdTech is certainly bright.
A lot depends, however, on how much EdTech companies and educators invest in the right set of technologies that fulfil the expectations of educators and learners. Whether in educational institutions or corporate learning, solutions must help the teaching community reduce the burden of administration and deliver affordable, quality education to their audience, which is increasingly relying on this format for their learning and training needs. Touted to be the mainstay of education in the future, smart classrooms will rely on a wide range of teaching tools and technologies to assist the learning experience end to end. Companies on their part, already heavily invest their learning budgets in online resources for their workforces.
With the education sector finally on board with digitalization, technology offers a delightful range of possibilities for EdTech to transform learning experiences.
The top five use cases of emerging technologies that will redefine education and the learning journey include:
1. Adaptive teaching that is human-centric
Learning is becoming more student centric with a growing preference for personalized experiences. While research suggests that modern-day learners prefer reading the more affordable and convenient digital form of their textbooks to the print version, Bay View Analytics research found that 43% of college faculty believe students retained knowledge better when learning from printed matter. Research also suggests that modern learners retain knowledge better when they are taught using multiple modalities and delivery methods.
The world of education has changed irrevocably, creating disparities in the teacher-learner dynamic. The role of the teacher has transformed too, becoming more significant – teachers are not supposed to simply pass on information but also required to function as facilitators of the learning journey. They are therefore, expected to switch modes to suit the student's learning style and capacity. They also have to continuously monitor and assess the learner's journey so as to customize and make the experience delightful and meaningful for their audience. Educators who have traditionally seen themselves as the controlling authority of educational material, now have to adapt their teaching mindsets to suit modern preferences and expectations of easy, inclusive accessibility.
Technology enabling adaptive teaching and learning experiences holds the key as it can deliver personalized, updated content that is focused on the unique needs and abilities of each learner. And the best thing is that adaptive learning works across all levels of education. Surgent CPA Review, for example, is an AI-driven, adaptive learning exam prep course. Its proprietary algorithm evaluates performance on questions, student learning styles, exam date available study hours etc. to produce tailor-made study plans. Prodigy is an educational math game that's becoming popular globally because it can customize content that allows for different learning styles to address specific areas that pose learning difficulties. Room to Read, developed by Robosoft, is a leading non-profit organization based in California provides an interactive & feature-rich digital platform to foster a reading habit among children. Test Coach is another comprehensive online learning platform developed by Robosoft for students. It brings the best of both offline and online learning to the students by providing a seamless digital experience.
2. AI as a teaching assistant
Teachers bear a significant burden of administration, lesson planning, assignment grading, learner assessments and recommendations, reports and metrics on performance at an individual and group level. Artificial Intelligence (AI) lends itself to automation of certain daily administrative tasks like grading, report generation thus freeing up time for teachers and trainers to focus on improving core aspects of their course content and teaching methods.
AI supported by machine learning is used for customized content delivery, learning assessment, plagiarism checks, virtual assistance, multiple language support, and computer vision. AI tools like ElevateU help colleges assess student performance and decide on the content and format best suited for each student. Georgia State uses Jill Watson, a human-like yet affordable AI assistant to respond to student queries round-the-clock. An elementary school in New Jersey uses an AI-based teaching assistant to help teachers figure out problematic areas of learning mathematics and fine-tune learning methods for each young learner.
3. Learning companions to suit each learner's pace
Assistive technology is increasing in acceptance as educators are able to extend the learning experience to students who are unable to attend regular classroom sessions. For example, those with special needs require simpler, easy access to educational content and personalized monitoring because of certain developmental challenges. Accounts of assistive technology like the one on robots helping preschoolers with autism practice non-verbal communications skills, have been making waves on the internet in recent years. The biggest advantage offered by these robots is that they can engage each student with the kind of individual attention and assistance required to help ease their learning journey.
AI can also play a valuable role in enhancing learning outcomes by identifying patterns in erroneous answers, areas of improvement in course material, and enabling individualized feedback messages relevant to a specific learner, which wouldn't have been possible otherwise. Experts believe that AI can help provide feedback in alternative formats such as a video/audio message that may go down better with the recipient learner and help break down their resistance to consider criticism in a positive light.
4. Gamification and visualization of real-life situations
Augmented Reality (AR) can replace paper-based learning material as all that the learner requires is a smartphone. With a smartphone in almost every hand, it is much easier to create an immersive learning experience, for example, of plant life through a walk in the park. Smart classrooms that are more interactive, immersive and collaborative have also become readily available.
As learners of every age are becoming more digitally savvy, AR brings alive the visualization and ensures engagement through gamification in a highly personal and interactive manner. For example, medical interns can safely and fully immerse themselves in training and practice via the how-to virtualization of a complex surgical procedure without putting any lives at risk or incurring huge expenses in the real world. NASA teaches budding astronauts how to take a walk on Mars employing visuals generated through AR. At the other end of the spectrum, kindergarten can become more enjoyable with interactive games catering to young learners.
The Metaverse too will enable close to real-life experiences, a safe way to simulate learning experiences until a desired outcome has been achieved. Important and practical tasks such as performing advanced medical surgeries, conducting astrophysics experiments, visualization of a rocket launch etc. It provides another dimension to educational storytelling and gamification to make learning more fun and engaging. For example, Arizona State University and Dreamscape Immersive, a VR entertainment and technology company have collaborated to create virtual zoology labs for an explorative learning approach inspired by the metaverse.
5. Seamless consumption of multi-format, multi-genre content at the learner's convenience
With video becoming a popular means of consuming content, digital devices, and broadcast technologies finally have an opportunity to converge. OTT platforms and 5G connectivity in combination can deliver higher quality video at reliable speeds. Live streaming in 4K, 360-degree videos, highly interactive experiences – the opportunities to generate an immersive learning experience are almost limitless.
We are rapidly entering a future where education will find its place in a hybrid environment – the offline and online formats will coexist and support each other by bringing the best of their respective worlds. Rather than being seen as a makeshift alternative to physical/classroom learning, EdTech can potentially become the enabler of a robust and resilient system of education, acting as a multiplier to the current in-campus models. With the ability to extend the reach of education across geographies, reduce the burden on teachers, and include those sections who earlier did not have access to learning, the convergence of education and EdTech will see a new era emerge.
For this to come about, EdTech needs to befriend emerging technologies such as OTT/5G, AI, AR/VR, metaverse, data analytics to enable seamless, enhanced learning experience while bringing more learners into its fold. This way, EdTech companies will also be able to move quickly to capitalize on new revenue streams that technology opens up as education settles into its next-gen avatar.