Robosoft Technologies recognized amongst Top 15 Wearable App Developers and UI/UX Design Firms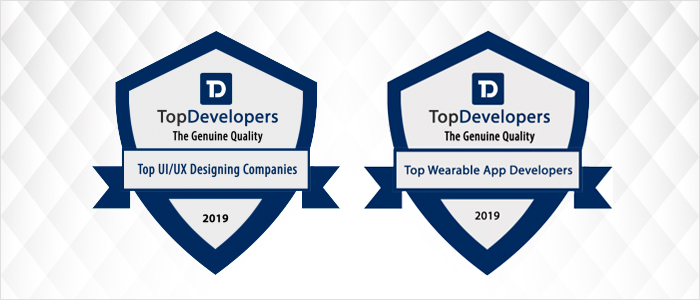 Globally the market of wearable solutions is projected to reach US$13,615m in 2019. Wearables and Wearable apps have become commonplace in daily activities, supporting users as they search, process, and utilize data when and where they need it. And, Wearable App Development has become an area of focus for digital solution providers across the globe.
Over the years we at Robosoft have worked on various emerging technologies and creating new-age wearable solutions is one of them. It is an honor to be recognized for the work that we have done in this domain. We were recognized among the Top 15 Wearable App Developers 2019 list by TopDevelopers.co , a leading directory of IT service providers.
In this list, TopDevelopers has identified "15 wearable app development companies that can smartly enrich your wearable app idea" through an extensive analysis on the market presence, team efficiency, professionalism, projects completed, client appreciations received expertise and the services offered.
At Robosoft, we have created digital solutions for reputed brands across the globe encompassing various technologies. Wearable app development is one of our focus areas and we have created delightful wearable solutions for brands like Motilal Oswal – India's leading online trading company and YES Bank. You can read more about our work here.
Read the full press release here.
UX/UI design plays a key role when it comes to creating engaging and delightful products for consumers and we at Robosoft strive to create such digital solutions across industries. We were also recognized amongst the top UI/UX design agencies that can meticulously design and present your business requirements as how the trend is.
The report deemed Robosoft amongst the "Finest UI/UX design agencies that design highly interactive designs that sell!"
Read the full press release here.
About TopDevelopers.co
TopDevelopers.co is a leading directory for mobile app, web and software, and digital marketing service agencies. With an opportunity to understand and know the developers market worldwide, they research, analyze, and choose the best among the efficient technical service providers. TopDevelopers' team introduces the right technology partners to the service seekers with dedication.