Robosoft's commitment towards business continuity and employee well-being during COVID-19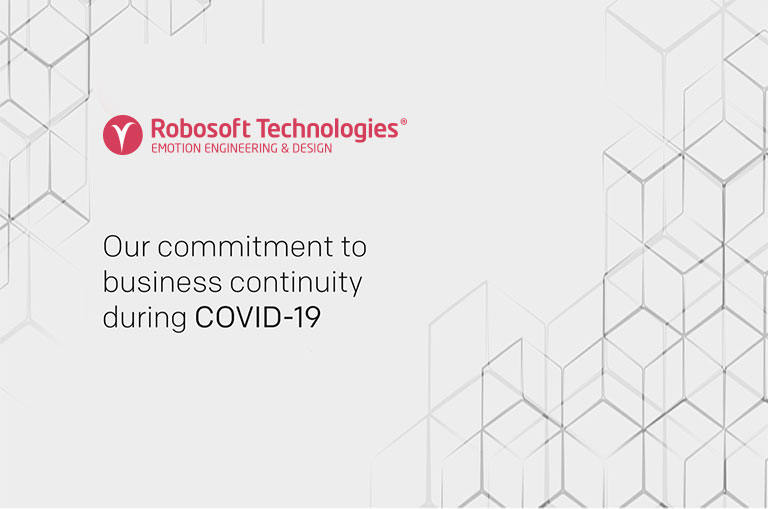 The current COVID-19 crisis has presented enterprises across the globe with the challenge to continue business operations while ensuring the safety and well-being of their employees. Enterprises are thereby taking preventive and precautionary measures to minimize the impact of this crisis on the ongoing business.
At Robosoft, we value the trust that our customers place in us as their digital service provider and have taken appropriate measures to ensure business continuity along with the wellbeing of our customers and employees across geographies.
In this context, our CEO, Ravi Teja Bommireddipalli outlines the steps that have been taken to address the current situation:
''As valued customers of Robosoft, we appreciate the trust you place in us as your digital & technology services partner. Recognizing the ongoing and increased uncertainty that coronavirus (COVID-19) is causing around the world, our highest priority is the business continuity, health, and well-being of our customers and employees. With this in mind, we wanted to update you on the actions we have taken in response to the outbreak.
Supporting our customers' business
The World Health Organization (WHO) declared COVID-19 a pandemic on March 11th, 2020. Ever since we have taken the necessary steps to ensure we have a comprehensive Business Continuity Plan (BCP) in place. We understand that this is a key priority for our customers. So, we are ensuring that our engineers, designers, analysts, project managers, and all leaders will be working for you without disruption by using telephone, video or audio conferencing technology and VPN connectivity that supports remote login and secure working. Apart from these measures, our employees have all signed confidentiality letters that enable strict adherence to customer data privacy.
As a B2B service provider working with enterprises around the globe, we have had remote teams in place for several years now. Most of our team members – especially those with customer-facing roles are equipped to work from anywhere.
Action plan for our employees:
Restricted movements:
On March 14th, state governments, as well as local City/District Administration in India, sent strong recommendations to facilitate work from home for businesses. We have chosen to move most of our employees working in our Udupi, Bengaluru and Mumbai offices to work from their homes. We have procured additional laptops where needed and/or moved desktops to the employees' residence to facilitate uninterrupted work.
Precautions at the workplace:
A small number of employees will continue to attend office and for those, we have recommended strict adherence to the following precautions:
Usage of N95 masks if traveling by public transport.
Seeing a doctor and avoid coming to the office, if anyone in the place of residence is feeling sick.
Completely avoid traveling long distances either by air, bus or train.
Completely avoid all public functions and public places with gatherings where there are more than 50 attendees.
Practice social distancing
The entry of visitors to our premises is restricted as a security measure. We have appraised our cleaning staff to clean all frequently used areas on an hourly basis. We have placed hand sanitizers in all wings, common areas, and work locations. We have sensitized our caterers about the good hygiene practice to be followed during this time.
Remote working or Work from Home (WFH):
We have provided remote login facilities through a secure VPN for employees working from home. We have also advised our employees to follow these guidelines to ensure continued  productivity:
Have a common login and logout time for all the team members; continue to log daily work details into our time-sheet management tool
Ensure the daily stand up calls take place so that everyone knows the status and the team can track progress.
Communication is key – both with teams and customers. Ensure that all the stakeholders are appraised at all times.
Make use of tools such as Skype, Slack, WhatsApp, Teams, WebEx & Zoom to communicate with each other.
Review the work progress multiple times during the day.
Adhere to a schedule, which the team, manager and the customer are aware so that there is utmost transparency.
During work hours, ensure that work is done in a distraction-free environment, especially when there are kids at home.
Ensure that client calls are attended to at the specified time so that all stakeholders know they can count on the team.
We'd like to stress that maintaining client confidentiality continues to be a key priority for us.
Travel Advisory:
We have clamped down on all air travel. Employees who are returning to India from foreign travel will need to work from home and self-quarantine themselves for a minimum of two weeks before they report to their respective work locations after a medical check-up.
We are confident that we will tide over this undoubtedly difficult situation and ensure that our deliverables do not suffer either on quality or time commitments. I once again would like to reassure you that we shall do our best to serve you. I look forward to your continued support.''
With these measures taken to ensure business continuity and employee well-being, we hope to continue serving our customers and meeting our commitments, to the best of our abilities in the coming days.