ETV Bharat: Winner in the 'Content Everywhere' category at IBC2019 Innovation Awards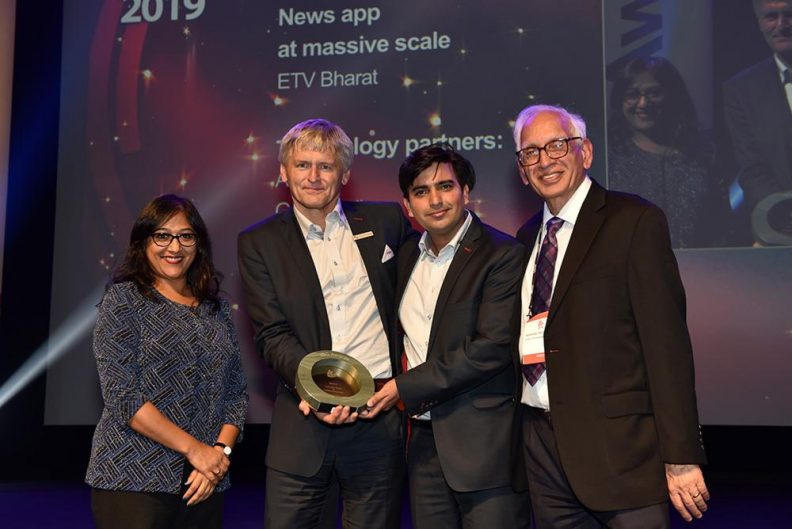 We are overjoyed to announce that ETV Bharath, a one-of-a-kind digital media hub developed by Robosoft won the IBC2019 Innovation Awards under 'Content Everywhere' category at The World's Most Influential Media Entertainment & Technology Show held in Amsterdam on 17 September 2019. The winning entry mentioned: "Together with other TV technology partners serving ETV Bharat, a new world-standard in mobile news production and distribution has been achieved."
We are privileged to have partnered with several prestigious media, entertainment & publishing brands like Viacom18, Saregama, NDTV, Warner Bros., Disney and more, in creating experiences that have touched billions of lives.
We thank our customers for trusting us, and our talented team for their relentless effort.
About ETV Bharat:
A comprehensive digital national news platform, ETV Bharat – aims to deliver news and information services, using a video-centric Mobile App and Web Portals. Backed by the renowned and respected five-decade old Ramoji Group, ETV Bharat comprises a dedicated network of journalists in 23 states and offers news in 13 languages i.e.–Hindi, Urdu, Telugu, Tamil, Kannada, Malayalam, Gujarati, Marathi, Bengali, Punjabi, Assamese, Odia and English. It promises the best of digital experience and journalistic standards with the credibility of the Eenadu& ETV Network.
To know more about our collaboration with ETV Bharath, read the case study.