OTT Video in retail – the coming revolution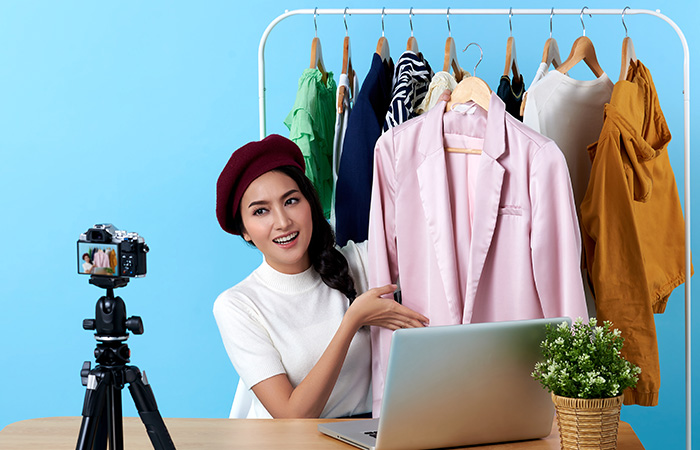 Covid-19 pandemic has caused rapid changes in consumer behavior across categories. Enterprises are striving to recognize this evolving consumer behavior and leverage digital to acquire, engage and retain customers.
In the last few months, US retail sales fell by 8.1% year-on-year – the worst decline since the financial crisis of 2009. In the UK, retail footfalls dipped by 32%, and India saw a 40% drop in consumer spending. Sectors that relied heavily on their physical presence – brick-and-mortar retail have been among the worst-hit sectors during this time.
On the positive side, online businesses have seen a surge in revenues. In the times ahead, the acceleration of e-commerce and the role of digital experiences through apps will be a defining factor in helping retailers connect with consumers to acquire a competitive edge. The outbreak of COVID-19 has accelerated the pace of digitalization. A CNBC report mentions that 40% of consumers say they have increased or significantly increased their online purchasing.
A key component of the online purchasing has been the video platform.  Static images are giving way to streaming videos to better convey product and brand value.
Key benefits of video streaming for retail 
Out of sight, out of mind is more pertinent than ever before.  Hence it is essential for retailers to use innovative approaches to remain on consumers' radar. Videos play a crucial role in this as it's a more visually engaging medium. Let us look at some of the factors triggering the need for video streaming in retail: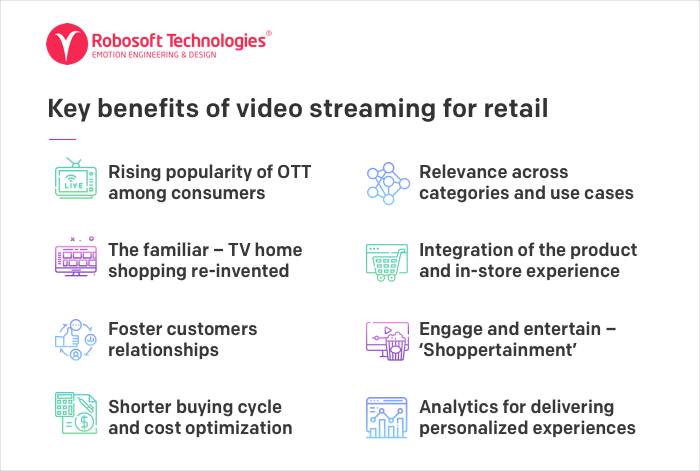 Consumer demand drives the popularity of OTT
The lockdown of more than ¼ of the world's population has propelled the usage of online streaming and entertainment services. In the US, OTT usage surged by 7.5% in April 2020 compared to the same month a year ago. And during the last year, the number of streaming services subscribers surpassed the number of cable subscribers and reached a number of 613 million. Disney+ has had a 75% rise in subscribers since early February. The Discovery+ app that Robosoft helped build has garnered close to 4.5 million installs. This rapid adoption unveils a need for a more human connect which a video meets better than static images or text.
Increasing penetration of smartphones, affordable high-speed data networks, demand for personalized experiences, rise in adoption of smart TVs, and devices such as Fire TV are some of the reasons behind the rise in demand for Video OTT services.
Relevance across categories and use cases
Video OTT is no longer a vertical medium confined to the media and entertainment domain. It is now a horizontal technology that can be integrated into various industries like – education, healthcare, and retail, amongst others. Fortune Business Insight cites Medical Aid and Educational platforms as significant contributors to growth in the streaming video market propelling it to USD 842.93 billion by 2027.
A new format of the familiar – TV home shopping re-invented
The TV channels, as we know it, had a slew of video channels showcasing products.  However, the call to action to close the purchase loop was left to consumers calling up a number as there was no easy way to complete the purchase on the TV channel. The OTT technology in retail enables the best of both the worlds: the engagement of TV and the interactivity to explore options, make desired selections at own convenience and importantly place order and make the payment. Recently, the world's largest air conditioner maker, Gree, sold 44 million USD worth of merchandise on Kuaishou, China's leading short-video and live-streaming social platform.
Bring alive both the product and in-store experience (Video OTT for Brand promotion and Advertisement)
We have all experienced the gorgeous presentations of products in categories such as food, consumer goods, luxury, etc on the TV channels, evoking an emotion – a desire. Such experience is partially carried forward on social media platforms such as Instagram. According to Forrester, Instagram ads have the highest engagement rate of all digital ad placements. Several categories where visual appeal (food, apparel, interior decor) matters have taken advantage of the format. Video OTT adds a dimension of interactiveness and convenience to this.
Combined with AR/VR, it gives organizations the tool to bring the in-store experience to the digital channel rather than being merely a catalog of static images. In India, jewelry brand Tanishq has clocked a sales of USD 10.3mn in two months during the recent lockdown period through video calls and Whatsapp chats. Now imagine the brands in the retail domain across categories generating similar uptick in revenue using the OTT channel.
Taking a cue from this trend, in July this year, Google launched Shoploop, a video shopping platform for discovering, evaluating, and buying products, all in one place. Similarly, there have been more online video-based shopping apps that have been launched recently – for e.g. YEAY is the first app where products are sold solely through video. Bulbul is another – online Video Shopping app that is from India.  Enhancing the online shopping experience further, Dutch Cheese Merchant Kaan lets online customers order artisanal cheese and interact with staff in real-time as if they were actually inside the shop. A setup like Kaan's Stream Store could fill the missing human element into the often impersonal experience of shopping online.
Foster customers relationships and build loyalty
This is also the time for brands to build a stronger connection with their consumers by personalizing and humanizing their experiences. Videos can help bring the human-connect in the consumer's shopping experience that is beyond 'click and buy'.
According to a recent report from Mckinsey, the specialty-apparel and department-store retail channels have already reached peak promotional frequency online, so it will be difficult for brands to break through with clear, differentiated offers that stand out from competition. As the holiday season nears, shoppers will be bombarded with messages about flash sales, BOGO deals and so on which will be lost among a sea of similar emails and digital ads. Retailers will have to re-evaluate their strategies to stand out and Video streaming used effectively can help do that.
Don't just communicate – engage and entertain – 'Shoppertainment'
A PWC report suggests that consumers are 50 percent more willing to try new brands at this time. And consumers are spending more time on social media and online streaming platforms. This is a great opportunity for brands to recognize this changing consumer behavior to further their leadership position using Video OTT. Strategies include connect with consumers with effective storytelling strategies using live streaming, influencer marketing, AR/VR, 3600 videos, and more.
Videos and live streaming will prove to be an effective tool to leverage the power of social media and get more buyers, for instance, Be.Live the video streaming format has seen a 70x increase in the number of customers using its live shopping feature. Similarly, Alibaba's Taobao Live live streaming platform has surged.
The younger generation expects more engaging shopping experiences. Leveraging this trend large retailers are already leading the charge with interactive video. For example, Fandango's streaming service Vudu has been investing in shoppable ads to uplevel their platform's e-commerce capabilities. Alibaba has tapped into streaming platform Bilibili to leverage anime video content and get in front of new audience segments.
Further, according to Taobao (Alibaba), there were 400 million users watching its 60,000-plus Livestream shopping shows in 2019. The Livestream channels, hosted by brand stores or influencers, generated 200 billion yuan ($28 billion) last year. Shanghai Fashion Week in late March was fully live-streamed on it: viewers could pre-order the clothes the models were wearing on the catwalk, as well as buy pieces from the designers' existing collections.
Shorten the buying cycle, optimize costs and expand revenue streams
Video medium could help in shortening the buying cycles by making pertinent features of the product more evident and reduce the number of returns resulting from mistaken selection. Video OTT can also greatly facilitate product exchanges by providing a near live in-store experience. Recently, Galeries Lafayette in France used live video to help launch an exclusive Live Shopping service, where interaction with the store's personal shoppers are made possible via video. Products can be chosen and confirmed by email with online payment, ready for either home delivery or Click & Collect.
Smaller retailers are also jumping the bandwagon using video platforms to reconnect with their customers. The number of merchants using it for the first time grew by 719% from January to February. Sarah Akram a master aesthetician and founder of Sarah Akram Skincare, which caters to celebrities like Billy Porter and Zooey Deschanel moved to video format to offer virtual consultations and live skincare assessment through Instagram's live feature.
The video medium has also opened several opportunities for B2C services as well. Shapermint a direct-to-consumer shapewear company recently began streaming live yoga practices, meditations, and home exercises as well as sessions on how to care for children while working from home.
Better analytics for delivering personalized experiences
Video-streaming platforms coupled with a digital backbone can remember customer interaction history and personalize their subsequent experiences. can offer detailed data reviews and analysis are available for a better brand and product sentiment and roadmap. Further, the data from these platforms can help in collecting qualified high purchase intention leads, allowing precise retargeting and remarketing. Roku launched a new shopper data program that is designed to improve targeting and measurement of TV advertising for CPG marketers, with Kroger Precision Marketing (KPM) joining as a launch partner. The information will help CPG marketers better target ads that run on Roku's platform and tie ad exposure to online and in-store sales.
In conclusion:

While going back to normal may happen eventually, some shifts in consumer buying behavior may be permanent. Retailers are already shifting strategies and adapting to today's current landscape. The pandemic turned more consumers into online shoppers across all categories. Retailers already believe that this could be the new normal. Given that, the audio-visual nature of streaming services will have a powerful impact on consumers as videos are the most engaging of visual media. Videos when done well and in a non-intrusive way can influence shoppers in their buying journey and help accelerate the purchase decision favorably.
Video platforms and live streaming will have a crucial role to play in the future because they offer a sense of community as well as entertainment — two things consumers are yearning for and two critical aspects of shopping. People buy things not just because they need them, but also because of the experience. Videos and live streaming have the potential to simulate a real-life experience, leading to a stronger brand association and hopefully a long-term relationship with consumers.