On-Demand Laundry: Guide to Build Digital Inventory Management Solution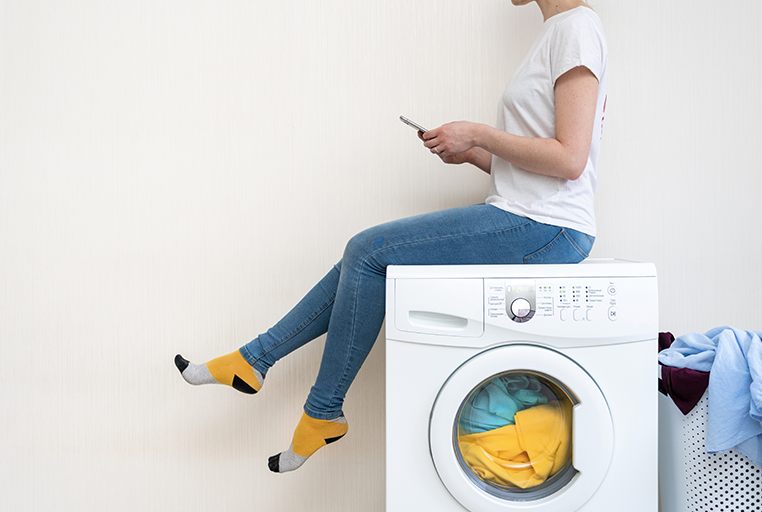 Changing lifestyles and leanings towards outsourced services compared to doing it yourself are propelling the growth of numerous services, one of which is the on-demand laundry service. The pandemic has accelerated the adoption of on-demand laundry. Property prices have further created leanings toward on-demand laundry services. Since most households may be able to afford a washing machine, but they may not be able to afford dedicated space or time for washing, drying, ironing, etc. In B2B, increased outsourcing of laundry is seen as the hospitality industry focuses on utilizing available real estate for revenue generation activities. Consequently, the on-demand laundry business has witnessed fast growth across different geographies. India's laundry market is expected to grow to $15 billion by 2025, from $11.3B in 2019, according to a RedSeer Report.
As a business, on-demand laundry has its unique advantages. It is one of those businesses that have no receivables. Inventory or consumables are meager and do not block a significant part of the capital. Digital technologies are helping control the collection, delivery, and movement of garments, thereby permitting scale. The trend of increasing demand coupled with the ability to scale using digital makes on-demand laundry services the next upcoming industry.
Let's dive deeper into what goes behind the operations of such an on-demand laundry service.
On-demand laundry service components and their digitalization
An on-demand laundry service lends itself to digitalization which enables tight control and management of every step of the operations. The similarities in B2C and B2B businesses simplify the digitalization of entire operations. Moreover, digitalization enables scalability of operations as it is now convenient to replicate the model in other cities nationwide as well as globally.
Following are the on-demand laundry service components discussed in detail:
Pickup & delivery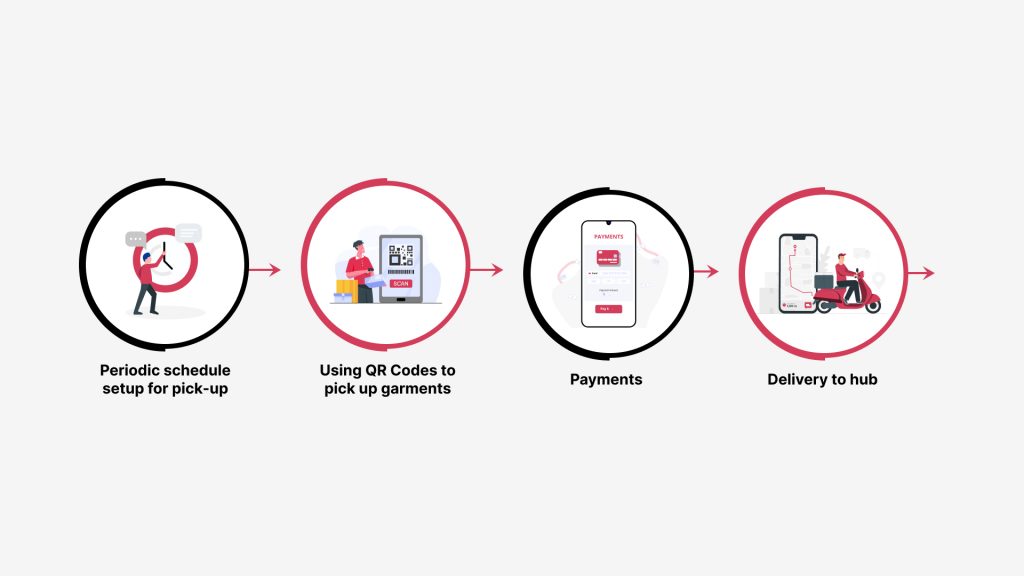 #1. Pickup
Service partners can take the help of route optimization tools to provide a hassle-free doorstep pickup and delivery experience to their customers.
a. Payments
Payment for purchase orders can be made during the booking process when choosing the time slot for pickup or during actual pickup. The customer can also be provided options to make an online payment at convenience.
b. Using QR Codes to pick up orders – Pick-up of garments
When a service delivery partner reaches the customer location, each customer is provided a QR Code induced bag to fill with laundry items for different wash orders. Each item is then photographed and provided with an individual barcode to keep count in the database. It creates an inventory management system where each item by the customer is tagged by the type of service requested and stored in the bag. The bag, in this sense, becomes an in-process inventory store.
Therefore, we can see that the entire process of controlling the inventory is crucial and can be automated completely with QR Codes and barcodes. This aspect of inventory management is useful for not only laundry but also manufacturing or construction as well.
c. Periodic schedule setup for pick-up
Customers can use the automatic scheduling feature to pick-up garments for cleaning and other purposes regularly. The customers won't have to set aside any specific time daily for scheduling a pick-up and can set it for months or a year.
#2. Delivery
The bag with QR Code from the staging area goes into a van. The van scans individual bags and takes them to their respective hubs. Hubs will again scan the QR Codes of the bags and give them to the delivery partners. The delivery partners will now give the scanned bags to the respective end user.
#3. Subscription services
The end user can have different subscription options based on the time period and service. One can have free pickup and delivery if they have a subscription. In case one doesn't have a subscription, they can be charged a certain amount after a total order value. This entire thing can be managed automatically on a digital platform.
Logistics
The following stages for the on-demand laundry service come right after the garments are picked up. They are part of the logistics management for the whole service.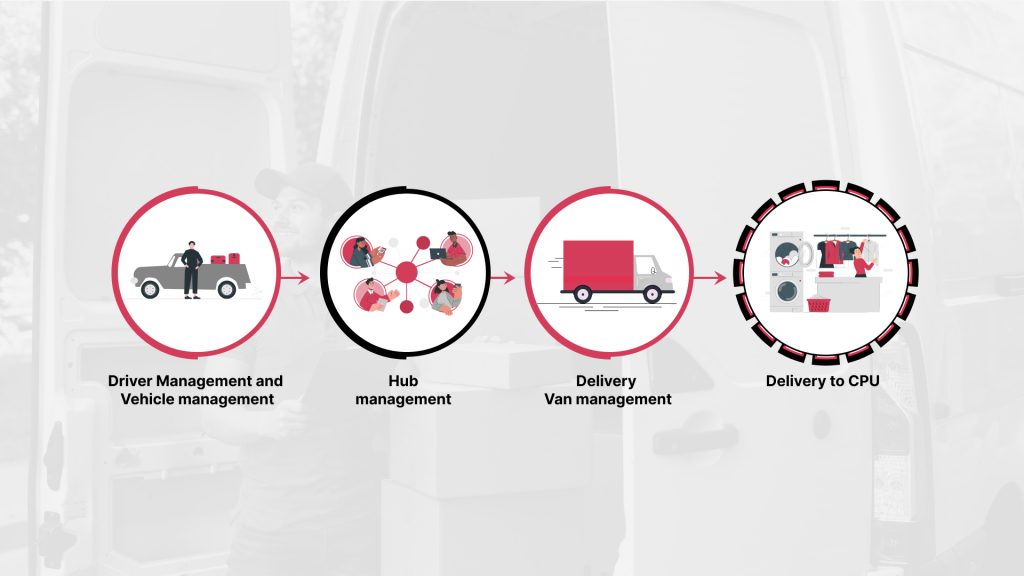 #1. Driver management and Vehicle management
The laundry service providers can use driver management systems to control and manage the fleet of pick-up and delivery vans along with their drivers. Each van is assigned a tracker, which helps in real-time location sharing with the service provider and the customer.
a. Absenteeism
A daily attendance tracker can also be implemented to keep track of any absenteeism among the drivers. This helps avoid or manage any shortage of pick-up or delivery vans. The service providers can arrange for alternatives accordingly to keep a customer happy. Also, thorough background verification of the drivers is conducted to discourage any misplacement of garments.
#2. Hub management
A city is to be further broken down systematically into separate hubs. Each hub will have between 10 to 20 service delivery partners. All delivery partners in their respective work shifts will bring the entire bags into their respective hubs.
Hubs now will have to simply scan the QR Code of each bag and put it aside to update the entire inventory in the backend system.
#3. Delivery van management
The delivery vans are assigned to city hubs according to the available number of customers and order volume. Some areas may require a larger number of pick-up and delivery vans, hence, any idle delivery van from other hubs can be reallocated accordingly.
Central Processing Unit or CPU
The entire inventory from the hub is now scanned and put into a van. The van, now becomes the mega-store of inventory, delivers the bags to the central processing unit.
It is the factory where the actual washing will take place. The van consisting of QR Code bags is now unloaded after scanning at the CPU. These bags are delivered to the processing unit. The processing unit then opens the bags and assigns individual barcodes to each item in the bags.
Now each item is sent to respective wash jobs – washing, dry cleaning, ironing, etc.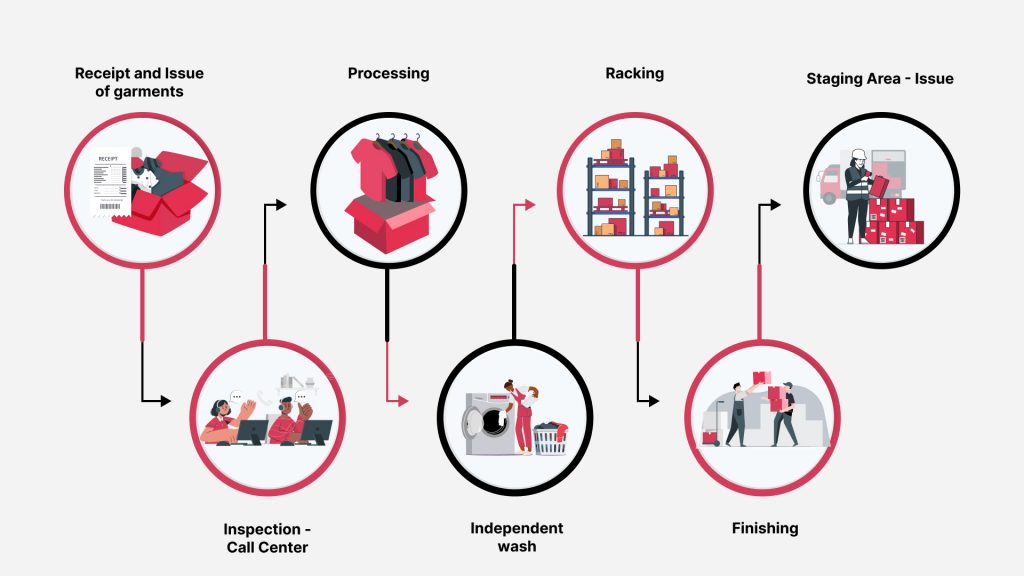 a. Receipt and issue of garments
The bags from pickup vans are collected, segregated, and scanned to keep a record of each customer in the backend system. The bags are then moved forward to initiate the washing process.
b. Processing department – Barcodes based
i. Inspection – Call center
The service provider assigns specific people to look for irremovable stains on garments and call up the customers if it's there. The customer is then provided with a choice to continue with the processing or return the garments.
ii. Processing
This is where the actual washing or dry cleaning takes place. Each item is assorted according to their wash order instructions and put into respective washers or dry cleaners.
Independent wash – Some customers may opt for independent wash or dry clean of their clothes. Here a camera is fitted across washers for such orders, and the entire process is recorded. The recorded video is then accessible by the customers for a specific number of days.
iii. Racking
After processing is complete, each item is now put into a rack. Racks will have QR Codes associated based on customer orders. Let's say a customer ordered two washing and three dry cleanings. The rack will be incomplete until it has five items against the total customer order. Once the rack contains all the customer orders, it will signal that the order is complete, and all the items in the rack will be picked up and go to the finishing table.
iv. Finishing table
The repackaging of customer items takes place at the finishing table. Based on the item type, it puts a plastic wrap around the cloth item, put a hanger for suits, or wraps with paper on each item. All the items are now packed together and made into a single package which now goes into the staging area.
v. Staging Area – Issue
In the staging area, the package is put into a bag with a QR Code to return to the hubs and then to the customer via delivery vans.
Customer benefits
24-hour turnaround: Any type of wash order (apart from large clothes) can be turned around back to the customer within 24 hours. Non-urgent sizeable items such as carpets and curtains can be returned within 72 hours.
Washing bulky items: Managing bulky items such as curtains and carpets is a challenge for businesses and households alike. With its pick-up and delivery services, on-demand laundry makes it conducive for customers to welcome their services.
Easy order placement: The customers can do a 1-click order placement via the mobile app and set it for repeat order placements.
Time slot convenience: Customers can choose their time slots for pick-up and delivery according to their own availability and convenience.
Wide selection of services: The services offered can range across all types of washing and dry cleaning. Hence, the customer doesn't have to set up any extra household system for such tasks.
Business benefits
Green, clean environment: The central laundry processing unit is now designed for recycling water and heat-processed disposal of detergents along with cleaning agents, thereby reducing carbon footprint and being environmentally friendly.
Tight inventory control: Digitalization of the whole operation helps the service providers to keep tight control over the movement of items across various stages.
Scalable: One of the major advantages of the digital model and its platform is that it is scalable to cover multiple areas within a city, grow to multiple cities, and even expand to multiple countries. Thus, the model permits starting small and growing as the business grows.
Shorter breakeven period: Since laundry businesses are not mandated to be in a prime locality, business viability improves. Also, the sector itself is growing in volume. These factors contribute to an earlier breakeven which is estimated to be around 3 years for this business.
Tech stack and microservice architecture for developing an on-demand mobile solution for a laundry business
A possible three-tiered microservice architecture diagram for an on-demand laundry service: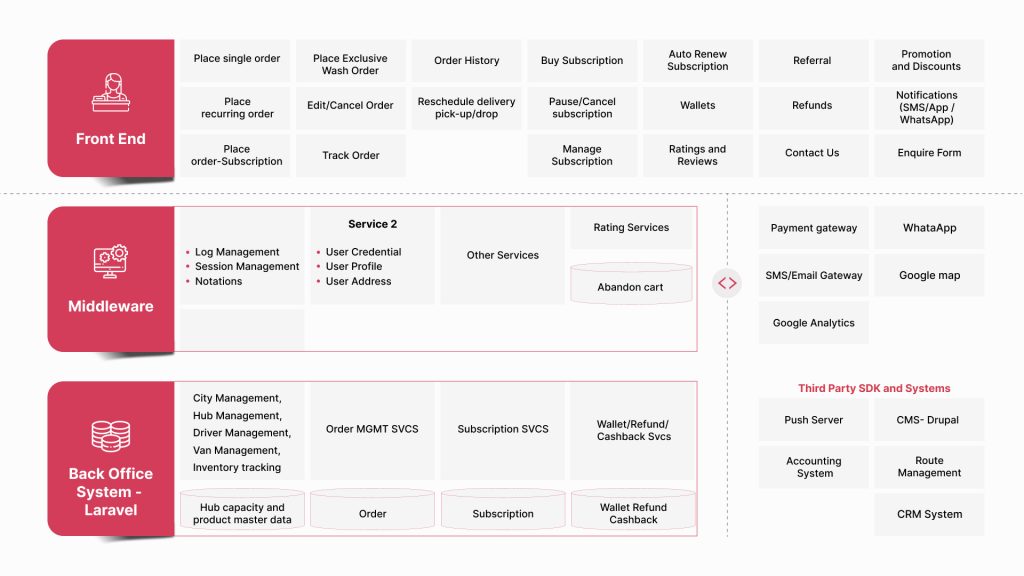 The following could be the technology stacks that can be used to create an on-demand laundry service: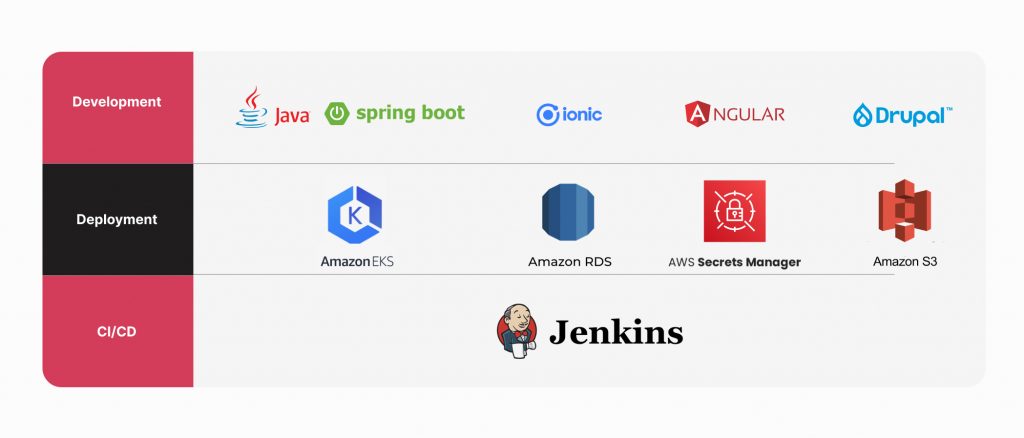 Looking forward
As lifestyles evolve, on-demand laundry services will grow. Digital platforms enable scalability, inventory management, and tight financial control. This unique feature applies to not only laundry services but other industries like manufacturing and construction. As we can see, implementing an automatic inventory tracking and update solution can increase the inventory turns, thereby reducing the capital requirement. Using QR Codes and barcodes can regulate the tracking of inventory goods in store and in transit.
In its current state, on-demand laundry service is quite a manually managed and fragmented market and offers huge opportunities for new businesses to create a niche. One can offer doorstep service and provide better garment care, eliminating the need to locate in prime areas and reducing capital requirements. One can use high-quality laundry products to clean delicate fabrics, maintain hygiene, and extend the life of the fabrics. The ability to maintain hygienic conditions counters the increasing prevalence of skin diseases such as rashes and allergies, which is yet another reason for its growth. The possibility of global scalability without receivables issues is a compelling business proposition.