Multiexperience: the imperative for every CXO for 2021 and beyond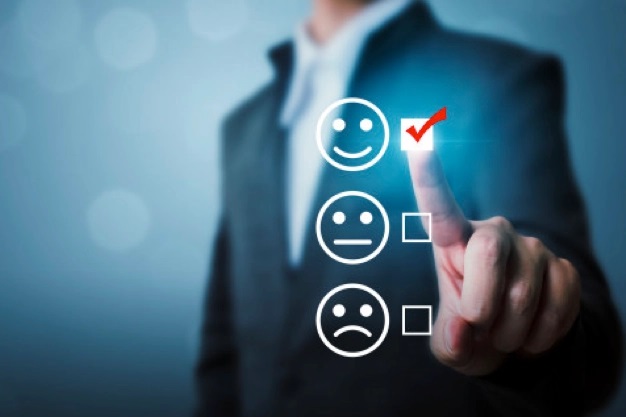 'People buy from those who they trust' is an adage that is timeless both in the offline and online world. Whether it is the familiar neighborhood store or an enterprise in the online world, earning consumer trust has always provided an edge – helping in customer retention and loyalty.
The trust factor came into play even more so in 2020 which has been tumultuous, to say the least. The global COVID-19 pandemic has disrupted the lives of people and enterprises alike in a manner we never imagined or prepared for. While several industries have been adversely affected (e.g. restaurants, amusement parks, cinema halls) many others have benefited. Digital banking, fintech services, streaming video services, EdTech, online delivery are some of the categories which have seen usage surge in 2020. The one factor which binds all the brands we turned to during this time has been the trust and familiarity factor.
As mentioned by McKinsey, particularly in times of crisis, a customer's interaction with a company can trigger an immediate and lingering effect on his or her sense of trust and loyalty. They go on to say:
'Now is also the time for customer experience (CX) leaders to position themselves at the forefront of the longer-term shifts in consumer behavior that result from this crisis. Keeping a real-time pulse on changing customer preferences and rapidly innovating to redesign journeys that matter to a very different context will be key.'
Years ago, the proliferation of digital platforms, channels, and devices led to the concept of multi-channel experience – which essentially meant presence across multiple channels. It was essentially a checklist approach of presence across digital platforms.
It later progressed to omnichannel – when such brand experiences were 'connected' across channels. Banks and retail enterprises were among those leading the call for such omnichannel experiences as can be seen by their efforts to have a presence through a physical store or branch, a website, and a mobile app. Starbucks and Disney are among the many brands which aced the omnichannel strategy.
Beyond omnichannel – the multiexperience advantage
As devices, platforms, and technologies proliferated over the years, consumer habits, dependencies, and expectations changed too. In order to address these changes effectively, Gartner proposed a change in mindset, espousing multiexperience as a new approach.
It calls for a customer journey-centric approach providing multisensory, multimodal, and seamless experiences. It calls for crafting seamless and native experiences across an increasing number of touchpoints – whichever mode the customer is comfortable with. It could be voice, chatbots, personal assistants, wearables, and augmented or virtual reality. In simple terms, multiexperience is taking the brands or products where the customers are and allowing them to engage as part of their user journeys.
The key is to get all this done without friction and using that platform, touchpoint, or interactions feature to the maximum benefit. At a glance, the difference between multichannel, omnichannel, and multiexperience would look like this: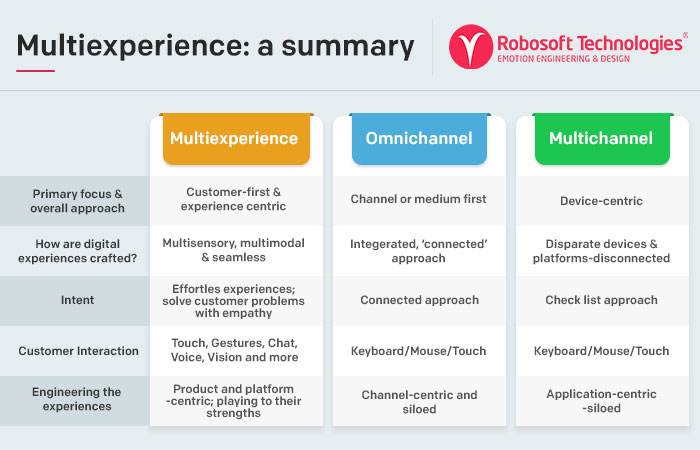 The critical difference is the consistency of the digital experience and the seamless handover from one device to another mode, without the hassle of starting off all over again. Dennis Maloney, Chief Digital Officer at Domino's Pizza said:
"What's the easiest way to order? When you don't have to do anything.".
Domino's Pizza's 'Anyware' platform allows users to order in 11 different ways – from voice assistants to smart TV. The focus is on letting the consumer do less to place an order and from as many devices and modes as possible.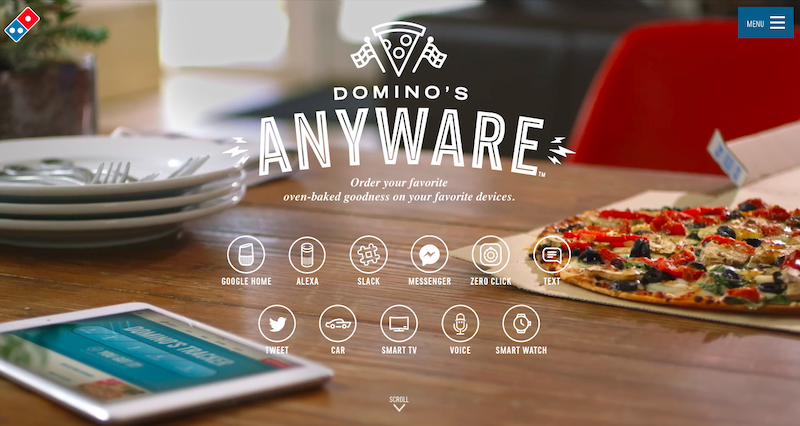 Image source
Another example of such a seamless experience is being planned on Google Maps which was hitherto only seen as a navigation aid. Today, it is being re-imagined as a means to gather information such as cab fares, show real-time 'crowdedness' information, and live food delivery status.
Multiexperience also requires backend applications to be micro-services enabled so that re-usable components are created to make them digital-ready. The microservices architecture is based on a collection of interconnected services. They are easier to build and maintain, and focus on business capabilities while enhancing productivity, speed, and scalability.
Why multiexperience? Winning the two big wars.
'Change is the only constant' maybe a cliche but never has the pace of change been so accelerated as in the digital age. Who would have thought that several industries would be upended when technology and great customer experience come together? Fintech, utility services, food delivery, aggregators across taxi services, and more have benefitted from fulfilling customer needs through great digital experiences.
These developments have forced legacy brands across segments to re-look at their business model and customer experience. Product or service parity is common across categories leaving little or no room for real, meaningful product differences. The only edge very often is customer experience. And as we live in an experience economy, this becomes core to a business strategy and not just limited to optimizing technologies or user experience.
At Robosoft, we recently crafted a multiexperience OTT platform for Discovery+. Viewers are evolving and methods of consuming content are fast changing. Brands today are constantly battling for user attention and time. This combined shift in the OTT space led us to the creation of a unified and effortless experience for Discovery Plus. With users owning more than one device, the goal was to design and deliver a consistent experience across devices, regardless of where the user starts, continues, and ends the journey.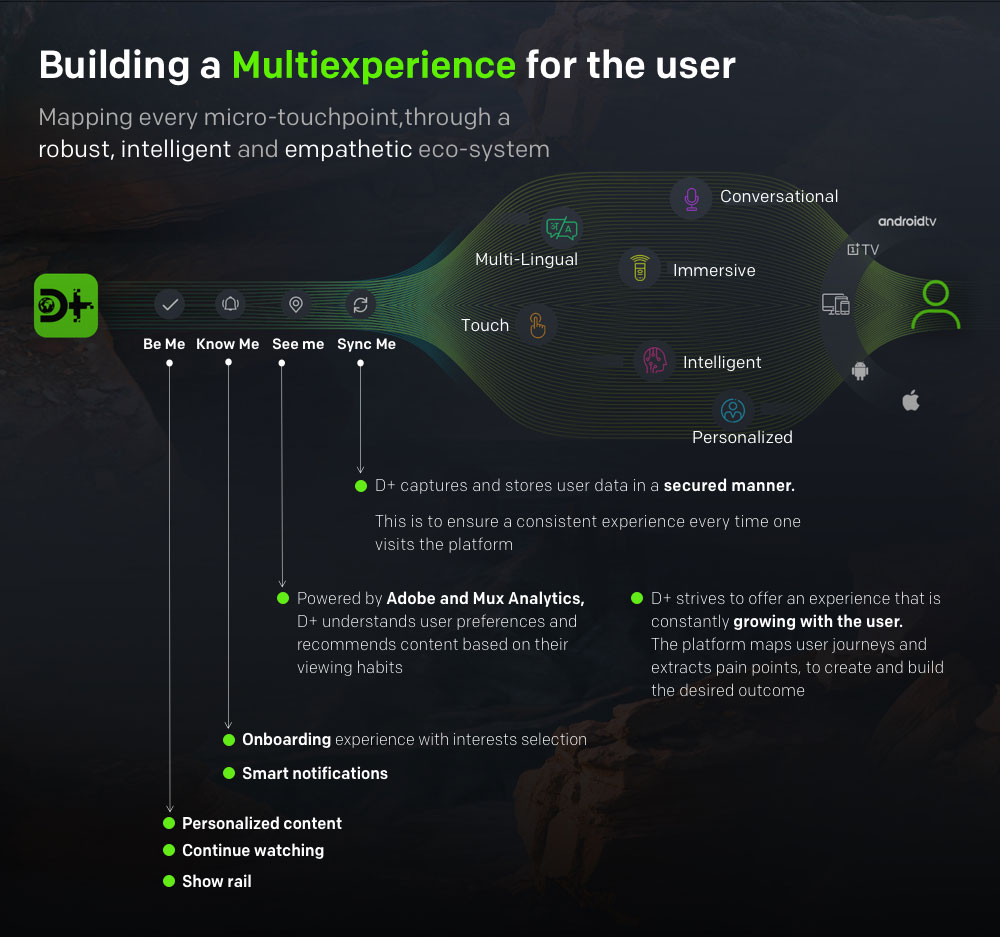 The other big war afoot is the one to win consumer's trust. In the digital world, it is said that winning consumer's attention is important. But I would argue that beyond mere attention, enterprises should strive to win consumer trust – as that is what leads to retention and consumer loyalty. Design can play a role in retaining customers, especially in businesses where subscription and repeat purchases are critical.
In the post COVID world, it is imperative that CXOs embrace the multiexperience mindset and craft effortless and seamless experiences that enable customer delight and win their trust.
This article was originally published at Linkedin Pulse under my LinkedIn handle – Ravi Teja Bommireddipalli