Experiential eCommerce: The new norm in retail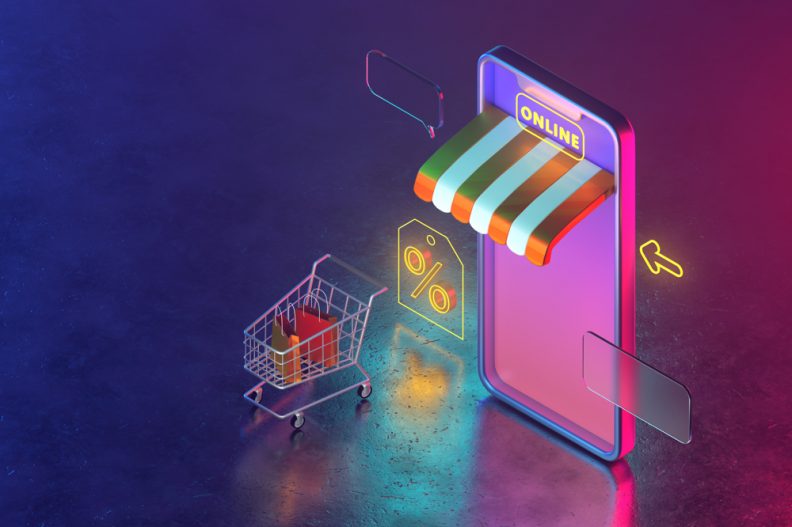 Over the course of the last decade, eCommerce platforms have become an integral part of our lives. In the post-COVID world, they have become almost indispensable and not just for the essentials such as groceries & medicine. Last year, in April, U.S. retailers' online year-over-year (YoY) revenue growth, went up by 68% According to QuantumMetric, online conversion rates increased 8.8% in February, reflecting a level of shopping urgency typically seen during Cyber Mondays.
The pandemic rapidly changed consumers' behavior toward online channels, and these shifts are likely to stick even after the pandemic is over. To succeed in this new era of online retail, enterprises will have to shift from an omnichannel and multichannel experience to a customer-centric multiexperience mindset.
 In the new normal creating multi-experiences is an imperative not just for the retail sector but for enterprises across industries.  What this means is retail enterprises will have to move beyond enabling consumers to engage anytime and anywhere to allowing them to interact in any way that is most convenient for them – Srinidhi Rao, Senior Vice President – Solutioning and Account Management
In this article, we will take a look at how the retail sector is evolving and some of the shifts that are enabling the new-age retailers to create customer-centric digital experiences for the experience economy.
The rise of experiential eCommerce for the experience economy
Experiential retail is a term that has gained popularity in the past few years. It enables eCommerce platforms to create an engaging in-store shopping experience – virtually. Experiential retail helps retailers to:
Engage buyers via an immersive and shareable experience

Prioritize customer engagement—not sales

Experience in-store online

Create experiences that not only addresses consumer-specified needs but their latent needs
Augmented Reality has been an enabler in the shift towards experiential retail. AR is not just a vanity technology but also helps shoppers make a purchase decision. Take for example in apparel and fashion, one of the main impediments to online purchasing has historically been the inability for customers to see how items would look on themselves. Jewelry brand Kendra Scott is tackling that problem via their platform, Virtual Try-On, which uses augmented reality (AR), machine learning, and computer vision techniques to enable customers to try out items from the comfort of their home.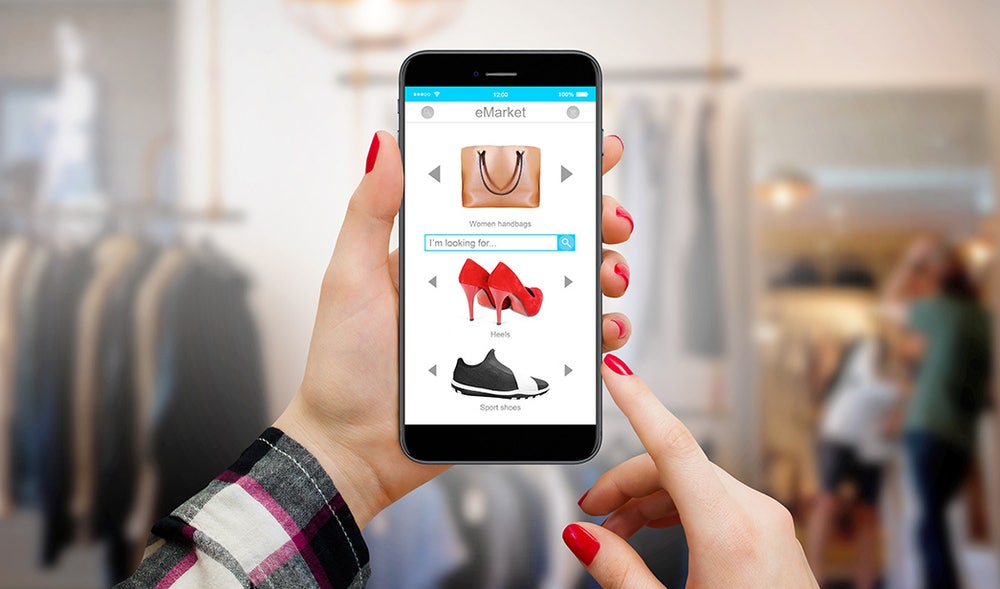 Image source
Shopify, which allows its merchants to add 3-D models to their product pages, found that conversion rates increased by 250% when consumers viewed 3-D products in Augmented Reality. We MakeUp, the Italian cosmetics brand, created an AR filter on Facebook that allowed users to 'try-on' different shades of its lipstick. Users could find their perfect match which increased order placement percentage
Burrow, a DTC furniture brand, is using AR to help customers visualize how their couches will fit in their living rooms. Eyeglass maker Warby Parker is playing in the AR space, allowing people to see what a pair of glasses looks like on their faces before making a purchase.
At Robosoft, we worked with a leading American kids' retail store to create an engaging digital experience for kids with exciting games, quizzes, stop-motion videos, and interactive AR-based shopping experiences. The app allowed kids and parents to scan in-store items & book pages and experience a game or video experience, get 360-degree views, bring characters to life, and take selfies.
Livestreaming is another trend that the retail sector is leveraging to offer an engaging experience to shoppers. Recently, Nordstrom unveiled its Livestream Shopping channel. Klarna, the payments platform partnered with Cosmopolitan Magazine to host its second "Hauliday by Cosmo x Klarna," a virtual shopping holiday event in the U.S.
In one of our earlier articles, we outlined how the retailers are benefitting from the rising adoption of video streaming and OTT.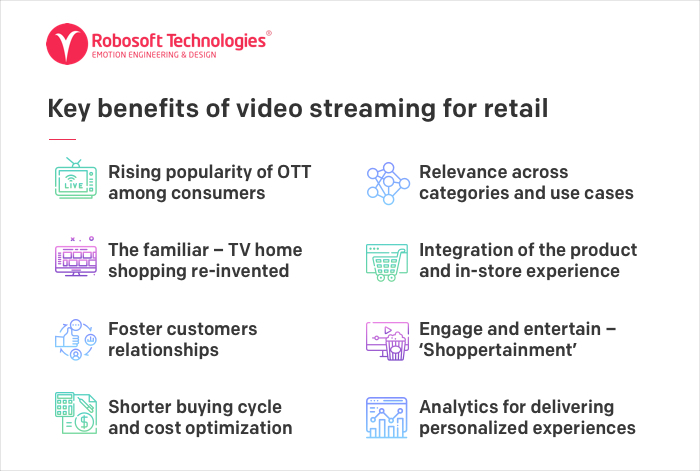 Shift towards niche marketplaces and brand exclusive eCommerce platforms
While the aggregator eCommerce platforms have had success in the recent past, the preference for direct-to-company brand stores is rising. Retail brands see increasing merit in building their own eCommerce platforms. Nike is focussing on its direct business to increase sales from its own website.
In January last year, Ikea said it would be moving away from selling on aggregators – a move which was also taken by retailers like Birkenstock and PopSockets. One of the major reasons for this shift is maintaining brand reputation. According to this CNBC report, Birkenstock's decision of moving away from an aggregator platform was due to the large number of counterfeits and unauthorized sellers, which it felt had the potential to jeopardize the brand.
We are already witnessing the emergence of niche marketplaces such as Mamoq, ASOS, etc. These marketplaces offer niche product categories like fashion and apparel, vegan and organic products, designer decor, and more. According to a McKinsey report, 35 percent of consumers shop at niche marketplaces, especially for apparel, sneakers and other footwear, and home products.
The reason why retailers are establishing their own Experiential e-commerce platforms
Retailers can offer an experience in line with their brand and create a stronger brand loyalty among their consumers
Consumers get access to a select range of products and services.

Consumers get guaranteed authenticity of a product or a service and no product is sold by multiple sellers as it is on an aggregator platform.
Hyperlocalization for customized experience
According to a Salesforce study, more than 75% of customers expect companies to understand their needs and expectations and offer personalized experiences. One of the ways to engage customers today and leverage personalization is through hyperlocalization. This means tailoring the offering of a store to the specific needs of the local customers. However, Hyperlocallization doesn't mean offering a unique set of products for every location – rather offering a core minimum assortment (CMA) relevant to 'most' of the shoppers of that store. 
A hyperlocalization approach includes a wide range of tactics like using analytics to make personalized recommendations, mega brands offering products and services that meet local demand, retailers sending customers localized offers on their preferred channel at the right time (and in real-time), etc. 
Now, more than ever, customers are online with a clear intent. With customer behavior evolving at a rapid pace, personalizing the customer experience via hyperlocalization is increasingly delivering results and gaining traction. Incorporating hyperlocalization into the CRM strategy is an important step toward driving growth and giving your brand a competitive edge.
Leveraging data science and analytics will play an important role in driving Hyperlocalization. This case study outlines how a leading grocery retailer leveraged customer data science to personalize its store and digital experiences and drive a more local, personal, and deeper relationship with its customers. They also Integrated its merchandising analytics with its automated assortment planning technology.
Personalizing shopping experience with Voice technology
In 2017, 13% of all households in the United States owned a smart speaker. That number is predicted to rise to 55% by 2022. A Google report suggests, 41% of people who own a voice-activated speaker say it feels like talking to a friend or another person. Voice Assistants can bring the human factor into the online shopping experience.
Voice search personalizes shopping experiences with the use of recommendations based on individual preferences. For example, if a customer uses AmazonFresh to buy their daily needs and is ordering them through Alexa, the voice assistant suggests items that match their diet, based on the preferences that have been communicated to the device. And if an order has to be repeated, voice search can make the task even easier for the user.
With Voice solutions, it is faster and easier to take reviews and feedback from the customers. Voice search is quick and effective when it comes to typing a query and it can also be combined with other activities like cooking, driving, exercising, etc. Recently, Domino's pizza rolled out a voice assistant feature Dom for automating pizza orders over the phone to ensure that the process is convenient and quick for customers.  While the customer can place an order in a non-intrusive manner (can take as much time as they want, change orders multiple times without being embarrassed), it saves manpower, increases speed, reduces manual error, thereby injecting increased efficiency in the process.
According to an Adobe report, consumers typically use voice commerce for re-ordering common household goods such as toilet paper and laundry detergent. For visual or more complex purchases like apparel, flights, or concert tickets, people are focussing on providing a superior user experience to accompany Voice Commerce. At the same time, work is on to address privacy and security concerns related to Voice technologies.
Voice user interfaces are not meant to replace the graphical user interface.  Voice complements GUI and is expected to work in tandem. Some considerations to keep in mind while designing a Voice User experience (VUX).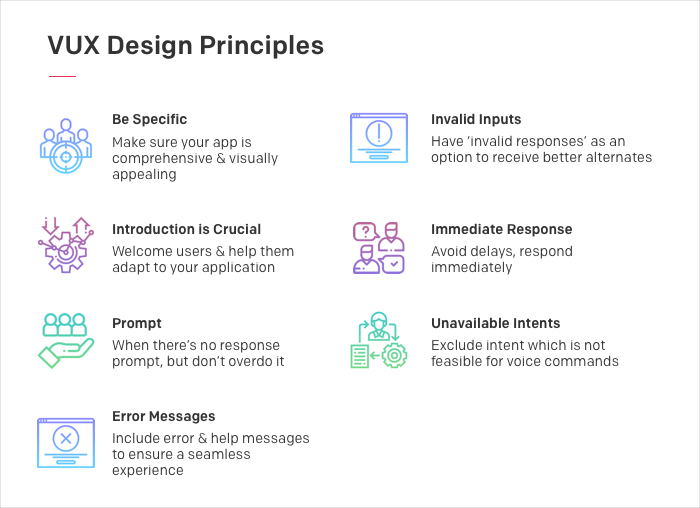 Making purchasing easy on your wallet
E-commerce companies have partnered with Finance companies to offer easy payment options.  As a result, EMI purchase is becoming a norm.
Payments company Klarna partners with retailers all over the world to make it easy to pay. Shoppers can use the Klarna app and get flexible payment options anywhere online.
Targeted marketing for higher response and faster conversions
Direct response to simplify user journeys and avoiding huge advertisement costs
Direct response marketing is meant to evoke an on-the-spot response and encourage a prospective customer to take action by opting into the advertiser's offer. Through direct response marketing is eCommerce brands can send customers targeted messages that drive specific actions—for example, buy a product, subscribe to a service, purchase a plan etc.
Some key elements of Direct response marketing are:
Customer Centricity – Addressing a customer problem upfront.
Personalization and targeting – direct response marketing works best when you have a specific buyer persona in mind
A clear CTA – Every direct response ad includes a clear call to action, compelling a visitor to do something specific.
Tracking and measuring – direct response helps to test the scale of consumer responses with a small campaign before launching a full-volume campaign.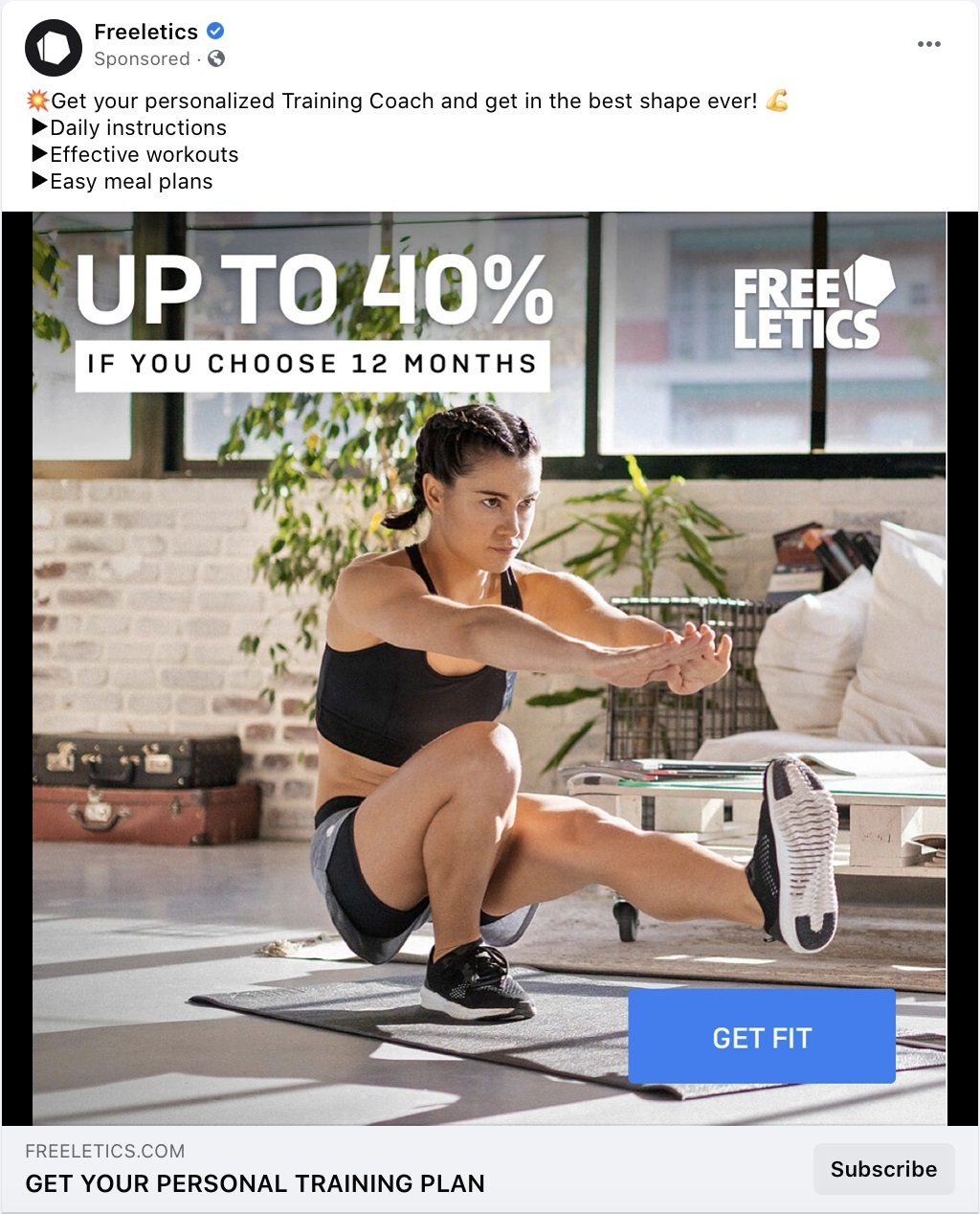 Lookalike audience to expand and reach well-targeted customers.
Expanding the reach of digital marketing beyond the existing customer database with optimal costs and higher conversion is critical for eCommerce platforms to scale-up business. Lookalike audience modeling is a process that can enable that. It involves exposing a small seed audience, known as 'reference sets' to the larger universe of data on advertising platforms like Facebook, Google, Outbrain, etc. The attributes of the reference sets are analyzed by the Machine Learning algorithms of these platforms to create a larger dataset that is most relevant to the business.
Some efficient ways of choosing a seed audience for creating lookalike audiences for eCommerce can be based on:
Customer's LTV

– This tactic involves taking picking the dataset of existing customers with the highest lifetime value and use them as a lookalike audience seed. It will help in creating an audience that is likely to generate higher conversions.

Customers' purchase behavior

– creating separate seed audiences for different categories of purchase. For example, for a pharmacy store selling both OTC medicines and bodybuilding supplements, segmenting these product categories into separate lookalike audiences, might yield more results. It will help in presenting the shoppers with ads for products that present a natural continuation of the user journey basis their purchase intent.

Cart Value

– creating a seed audience with customers having the highest cart value may mean expanding the dataset to shoppers who can make high-value purchases.

Website engagement metrics

– website engagement metrics like time spent on site, scroll depth, etc. can be easily measured via Google Tag Manager, with Facebook also offers data about the top percentage of audiences that shared the highest time on the site within their ads platform. This kind of seed audience can help marketers reach out to audiences that are likely to engage with the platform and eventually make a purchase.
Lookalike audience modeling has become a critical tool for eCommerce marketers to scale-up their reach. A recent report by the IAB and Winterberry Group, suggests that marketers want to "prioritize 'cross‐channel' initiatives and maintain a focus on the harmonization of audience experiences across media. Lookalike audience modeling is a great way of doing that since it allows to use of data sets from various mediums to reach the most relevant audiences.
Summing it up
The next normal is still taking shape, and customer expectations will continue to shift in response. Customer expectations, maturity of newer elements of digital, appreciation of experiential commerce, all are coming together to shape the next normal in eCommerce.  While digitization is disrupting the retail industry it is the enabler that will help retailers to create digital experiences that buyers seek in an experience economy. Retailers that focus on customer experience, respond with agility and innovation, and create a multi-experience strategy to acquire, engage and retain customers will be able to position themselves as leaders in the evolving turf.