$cat_id = get_cat_ID ( 'Openings' ); echo $cat_id ?>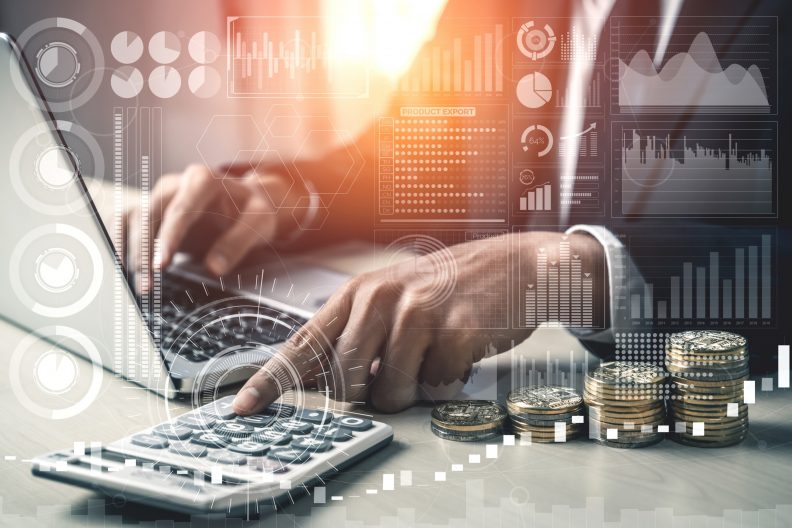 Like many other industries COVID-19 significantly impacted the Banking & Financial Services Industry too. Though the lockdown norms are being relaxed slowly, customer behavior has changed drastically. Customers no longer visit offline branches to conduct their financial transactions. They are wary of venturing outside their homes and for them to regain confidence in the in-person branch visits will not happen soon. As a result, financial institutions are forced to focus their customer targeting efforts on channels that are readily available via digital mediums.
The fact of the matter is for banks, financial institutions, and insurance companies, the face to face interaction that worked well in offline branches has to be maintained online. This is seen as a huge challenge for them. Hence, there needs to be a total shift in company tactics that can somehow retain that human connection with customers. The financial sector is poised to undergo a drastic change in the near future and customers should be ready for that change.
Let us take a look back in the pre-COVID19 period as a tipping point between the new normal and the post-COVID era. In a recent research conducted by the Digital Banking Report around digital transformation, customer experience, use of data and advanced analytics, innovation, and technology, it was clear that the financial industry leaders already knew what needed to be done, and in many cases, how to proceed. With COVID19 the pace of adapting and digitally evolving has accelerated, bringing a new opportunity as well to build loyalty among consumers.
In the new normal, financial institutions witnessed an environment where the way work, how consumers bank, how employees learn new skills and how brands are perceived are all different. The degree to which these changes take root is driven by both business and societal dynamics as well as how long it takes to move to a new equilibrium.
In a special report, After the Virus, Cognizant's Center for the Future of Work examines the implications of COVID-19 five years from now as it relates to work, education, entertainment, e-commerce, human engagement, and the environmental agenda. The report presents some interesting insights to lay a foundation of what the banking industry must do to fast forward their business strategy and keep abreast with the changing consumer behavior and better position themselves as future-ready.
In this article, we will take a look at some critical factors that financial institutions and banks need to take on an immediate basis to adapt to the new normal and remain competitive.
Critical factors for financial institutions and banks to adapt to the new normal and remain competitive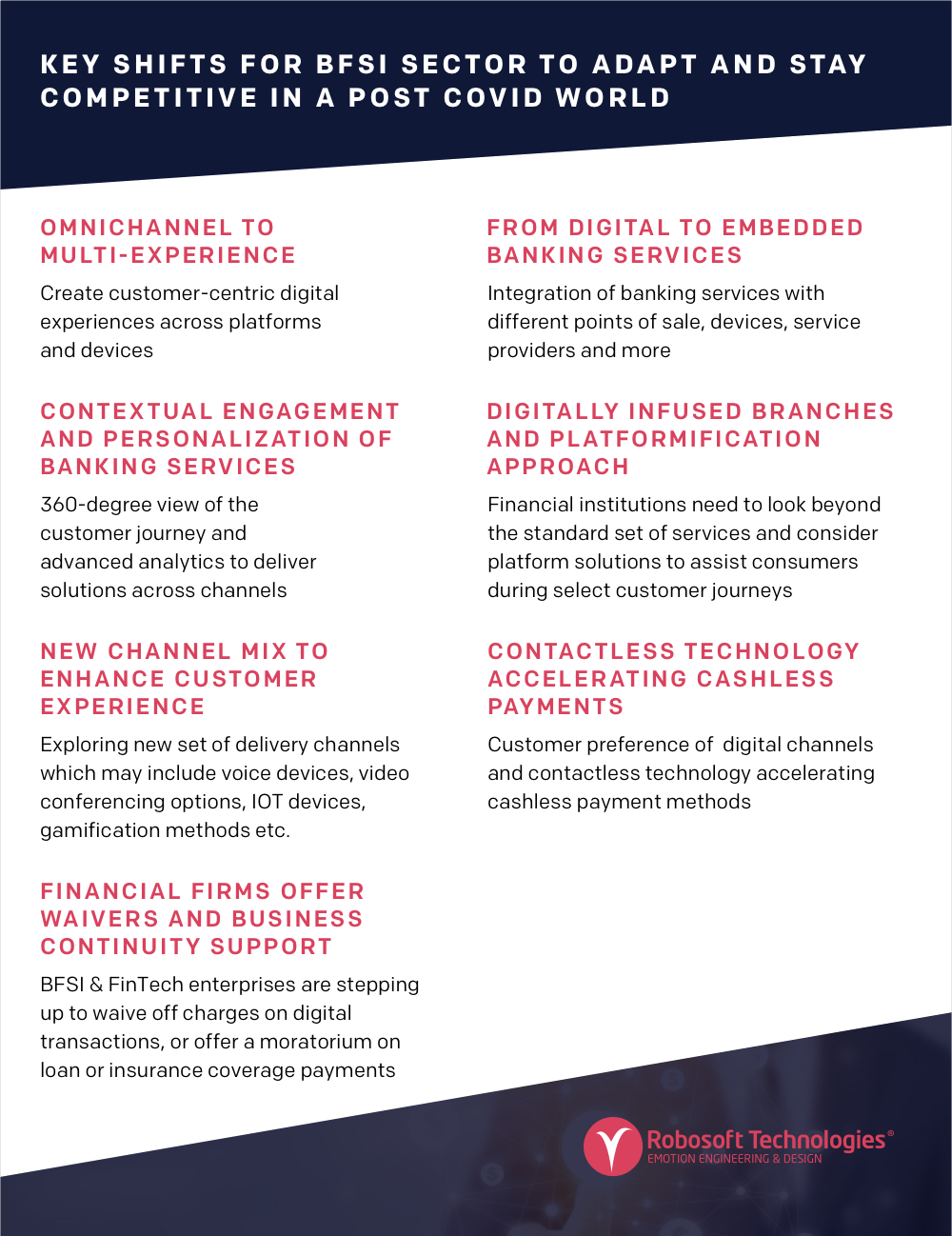 Multi-experience for financial services will remain to be top technology trends in 2020
As per Gartner reports, Multiexperience remains to be amongst the top technology trends of 2020 and is poised to replace technology-literate people with people-literate technology. Instead of people getting accustomed to the evolving technologies, it will so happen that the technology will evolve to understand the people better.
Multi-experience is all about leveraging various modalities, digital touchpoints, apps, and devices to design and develop a seamless experience for the customers. The idea is to interact with the customers at as many touchpoints as possible to offer a consistent customer experience across the web, mobile, app, and other modalities.
We need to take note that multi-experience is not omnichannel. While omnichannel involves tapping the user touchpoints across all the channels, multi-experience is about developing effortless customer experiences across apps, websites, and modalities of voice, touch, and text, irrespective of the channel.
The key difference between omnichannel and multi-experience is the core. Omnichannel is all about technology, whereas, multi-experience is all about people. This difference marks the shift from technology-literate people to people-literate technology.
Here's a four-step multi-experience model proposed by Jason Wong, Research Vice President to apply multi-experience to a digital user journey:
Sync me: Storing a user's information, which the user can find and access anytime.
See me: Understanding a user's context, location, situation, historical preferences, and then offering better information and interaction to the user.
Know me: Using predictive analytics to make suggestions to the user
Be me: Acting on the user's behalf, when given permission, and making the best decision for the user.
If we talk about financial services, Fintech is promoting a vision of a world without banks. Blockchains and cryptocurrencies are funding transactions without paper money or credit cards. Robo-advisers are providing portfolio management without managers. Mobile payments are turning phones into credit cards. The ability of upstart companies to provide high-performing web experiences is not hindered by legacy infrastructure — or legacy business models.
Customers want a fast, seamless, immersive, cross-channel digital experience that satisfies, and even anticipates, their needs. This is especially true of millennials, a generation quickly becoming the dominant demographic. Combine millennials' expectations of brands in general with their fundamentally different banking and investing habits, and it's clear that FSIs must adapt to those needs and requirements.
It's not enough to provide exceptional experiences just for basic online activities. FSIs must prove themselves by offering complex activities, such as applying for a loan or configuring products. As institutions offer ever-more complex digital transactions, the focus on performance only increases. The reality is that today's engaged consumers — influenced by their daily interactions on social media and other platforms — expect all sites and apps to be high performing and lightning-fast.
Not only digital but embedded banking services is the need of an hour
While not every consumer will want to do all of their banking digitally, most will expect that option in the future. Some of the banking services will include opening a new account, changing the terms of a loan, reaching a bank representative, etc. The experience must go beyond 'just digital' to become both seamless, simple, and user-friendly. With this, the core business of banks and financial institutions will encounter the next level of challenge. There is a question if banking will be controlled only by banks? As the challenge remains to be that customers will demand banking services to be available and integrated with different points of sale, devices, service providers etc. In short, banking services are expected to be embedded into virtually anything and everything.
Additionally, it leads to the discussion on banking service being offered in SaaS (Software-as-a-Service) model, pay-per-usage, subscriptions, renewals, etc. However, these terms were never traditionally associated with banking services, gradually there is growing customer demand for such a flexible approach to payments, investments, loans and other such banking services.
Contextual engagement and personalization of Banking & Financial Services
The expectation of real-time personalized offers and messages has increased dramatically. This requires a 360-degree view of the customer journey and advanced analytics to deliver solutions across channels. Personalization is currently the number #1 banking marketing trend. While the financial sector lags in adoption of personalized customer experiences techniques, consumer loyalty is at stake if more financial institutions don't reimagine their efforts. To note, choose financial institutions based on how well they incorporate personalized experiences.
Certain banks are taking tips from retailers on personalized customer experiences by using data analytics, coupled with artificial intelligence (AI), to offer customers personalized experiences. As per Everfi's banking trends for 2020, international banks like the Commonwealth Bank of Australia and the Royal Bank of Scotland use a model of "next best action" to follow consumers' financial journeys, predict the future financial products or services they might need, and personalize product offerings and advice to each consumers' unique situation or life stage.
Banking trends emphasize personalized experiences through Chatbots, and Mobile Apps
S. banks are using fintech in creative ways to appeal to a generation raised by technology. A mobile app packed with features is top on their list. Nearly 80 percent of consumers prefer using a single app to manage their finances.
More than a million Bank of America customers use an AI bot named Erica that is available through their app. Erica helps customers pay bills, shop, and more.
Citibank recently released a mobile app, 360º Financial View, that aggregates online financial tools and investments, even those outside Citibank. Citibank provides the all-in-one app to both current and potential customers. This allows Citibank to expand their market reach by advertising their products and services. It also gives users the option to open a new Citibank account.
It's no surprise that personalized customer experiences dramatically improve the bottom line. Financial institutions that implemented the next best action model saw a 30 to 40% increase in sales. By anticipating customer needs and catering to them with personalized offerings, financial institutions are able to generate increased revenue, all the while meeting customer expectations around personalized experiences with their trusted banking institutions.
Digitally infused branches and platformification approach
As already adopted in other industries, financial institutions especially banks need to look beyond the standard set of services and consider platform solutions to assist consumers during select customer journeys for example; car buying, investing, loans, home purchase, etc.) They can consider their bank website to be the 'main branch' and all offline branches will act as secondary branches for the time being.
A financial institution's website will be the primary go-to branch for customers where they can seek all kinds of information. The website will address all their needs and concerns just like any offline branch. If person-to-person interaction is needed, virtual consultation with the branch staff needs to be arranged. With this eventually, financial institutions can expect the number of offline branches to be reduced considerably.
But even with a few offline branches, a few leading organizations try to bring back the heyday for branches by making them engaging hangouts with increased digital services — from interactive kiosks to digital financial education modules and more.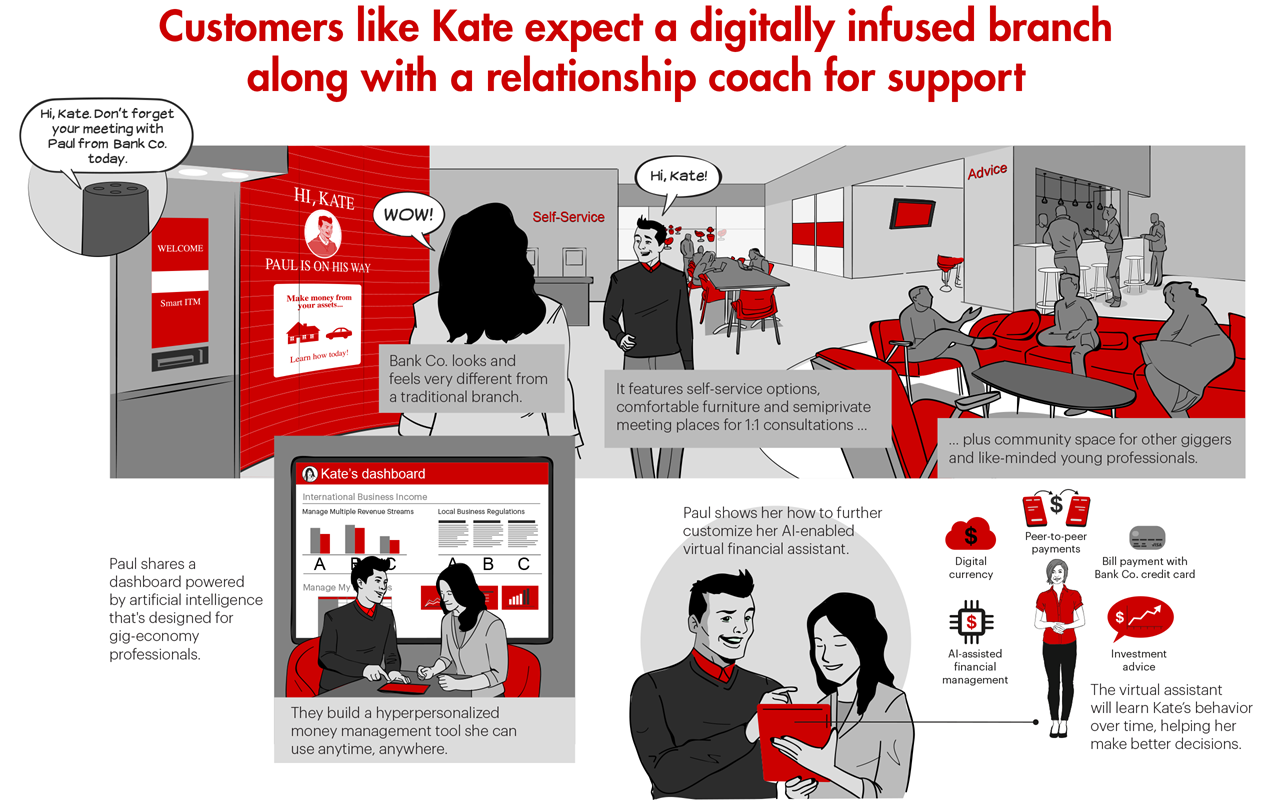 Image Source
Branches will provide great opportunities to engage customers and provide highly personalized financial education.  We can also expect further investment in employee training and branch redesigns as they will continue to deploy digital financial tools.
Financial institutes prefer a new channel mix to enhance customer experience
With the potential for many consumers to work remotely indefinitely, financial institutions and banks opt for a new set of delivery channels which may include voice devices, video conferencing options, IoT devices, gamification methods, etc. The proliferation of mobile devices and shifting preferences among demographic groups mean that customers expect more real-time, cross-channel capabilities (such as status inquiries and problem resolution) than ever before. Physical distribution will still be relevant but far less important, and banks must learn to deliver services with a compelling design and a seamless unconventional customer experience.
As per a McKinsey report, banks have recognized that customer expectations are increasingly being set by nonbanks. There are questions to be answered like why does a mortgage application take weeks to process? Why does it take an extra week (or two) to get a debit card online versus in a branch? Why can't a customer make a real-time payment from his or her phone to split a dinner check? There is an urgent need for banks to respond to these questions by improving their customer experience and meeting their customers' changing expectations. Financial services is the only business where you can be rejected as a customer. In an age where mobile devices provide real-time transparency on just about everything, it is critical to provide customers with information about the status of an application or what other documents are required. Account balances must be consistent across channels, and banks should consider the real time updating that an on-demand e-commerce application like Amazon provides and aim to deliver that level of transparency when it matters. Working on such innovation provides opportunities for banks to improve and differentiate their customers' cross-channel and cross-product experiences.
Contactless technology will ignite a cashless payment surge
In a recent Capgemini Consumer Behavior Survey conducted in April 2020 done for COVID-19 and the financial services consumer, states that in the post Covid19 era digital channels and contactless technology is preferred by consumers which will ignite a cashless payment surge. More than 52% said they prefer self-service bank mobile apps during the Covid-19 outbreak as compared to 47% before the virus pandemic. Similarly, 54% say they are conducting bank transactions over the internet during the pandemic. For the insurance sector, channels such as the firm's website (27%) and social media (26%) remained the top interaction choices for policyholders, a noticeable jump in numbers in comparison to before the Covid-19 scenario.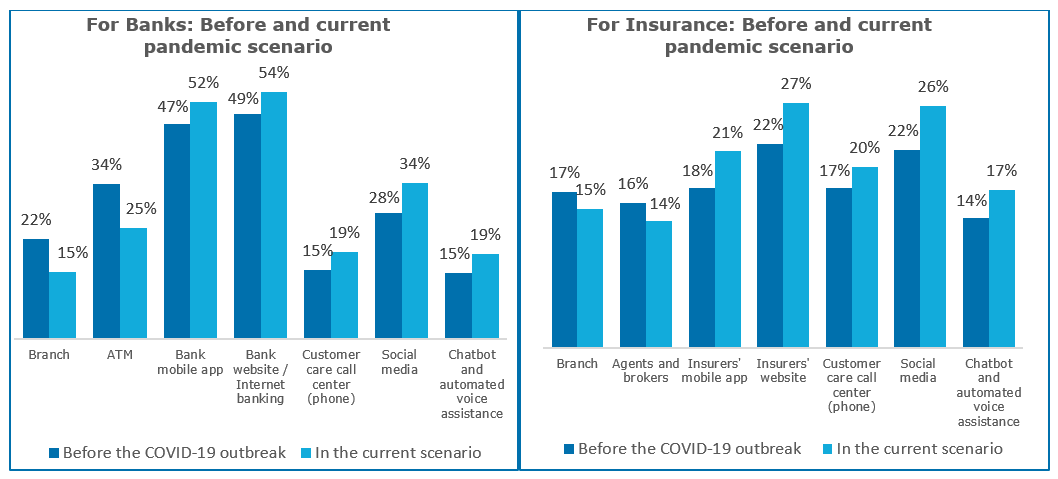 Image Source
Additionally the report mentions that banks, governments, regulators and banking associates minimize one-on-one contact and encourage customers to use contact-free digital services. The World Health Organization (WHO) recommended contactless payments versus cash, if possible, as a way to limit the spread of the virus that may linger on paper currency. In countries like China, banks are using ultraviolet light or high temperatures to disinfect Yuan bills, then sealing and storing the cash for one to two weeks before recirculation – depending on the severity of the outbreak in a particular region.
Financial firms offer waivers, donate services and business continuity support
Banks and insurers, FinTechs, InsurTechs, and BigTechs are stepping up – worldwide to waive off charges on digital transactions, or offer a moratorium on loan or insurance coverage payments.
ICICI bank in India, launched ICICI Stack, a digital platform that offers nearly 500 services from retailers, FinTechs, and e-commerce merchants. China's Ant Financial plans to open its payments platform Alipay to third parties, to provide business continuity during emergencies, and to become a part of customers' digital lifestyle.
Citigroup (USA) is pushing proactive reminders and helpful instructions to customers about mobile and digital banking services. Other banks are taking steps such as fee waivers, payment deferrals, and loan modifications in response to customers' changing circumstances. Insurers are also waiving out-of-pocket costs for treatment related to coronavirus. Many financial institutions offer community aid, donations and healthcare support to help overcome pandemic crises.
In Conclusion
Widespread adoption of new-age digital channels such as chatbots, automated voice assistants, and social media tools appears to be an inevitable truth for banks and financial institutes.
Throughout the unpredictable weeks and months ahead, the crisis-sparked surge in digital activity is bound to generate new customer habits that require banks and financial institutions to function online. Ultimately, the question is will full digital rein as the exclusive customer engagement channel? Not too likely, but it may become the primary channel that customers use to engage with banks and financial service providers. Each day of confinement promotes digital use, that begs another important question – Are Financial services incumbents ready to prioritize digital capabilities and offerings for success in a virtual world? The answer lies in the truth that the global pandemic has forced them to this reality and eventually shaped an enhanced customer experience.